By Ramona of Kitchen Simmer
My kids love smoothies. We use our Blendtec almost every day to make a healthy and delicious smoothie to start our day. One thing they love more than smoothies is ice cream or popsicles. I have been playing with making ice cream recently in the Blendtec when I decided to make mango creamsicle pops for the kids. Mangoes are a favorite fruit with both my kids, but my husband is not a fan. I only used three ingredients to make these creamsicles (actually my kids helped me make them).
My husband was hesitant when I said they were mango, but he tried it anyway. Well, needless to say, he loved them too. The creamsicles were gone so fast by the next day that I had to make another (double batch) for the family.
Note: The cream and condensed milk are very easy to find in your local grocery story, but finding mango puree may be a little bit more challenging. I am lucky to have an Indian/Asian grocery store close by where mango puree comes in a can. If you cannot find this puree, I suggest you blend (in the Blendtec) some mango nectar and mango fruit until creamy to make your own homemade version of the mango puree.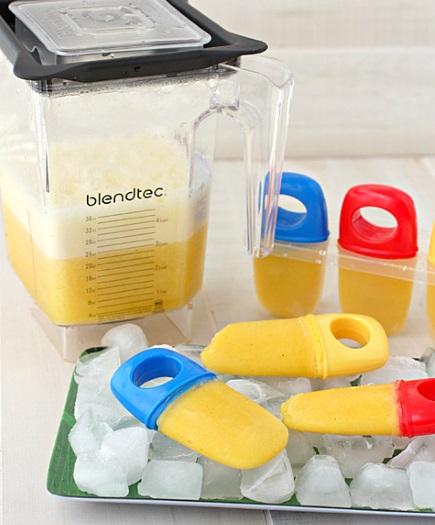 Mango Creamsicle Pops
Ingredients
1 cup mango pulp (This is a canned product available at Indian Stores)
2 cups cream (or half and half)
½ can (7-8 oz) condensed milk
Instructions
Blend all ingredients together in your Blendtec. (I used the Smoothie setting)
Pour into ice pop molds.
Freeze until solid. I let mine freeze overnight, and took it out for 10 minutes before serving to allow it to thaw a little. 
Remove pops from the mold and enjoy the frozen delight. It's creamy and fruity and perfect to enjoy on a hot summer day.  
About the Author Ramona is the writer and owner of a blog called Kitchen Simmer. She writes about all kinds of dishes, desserts and, drinks ranging from American comfort foods to curries from around the world. All her recipes are taste tested and approved by her family, friends and her many Kitchen Simmer fans.
---
2 comments
---
---