3 Reasons to Make Homemade Salad Dressing
By Trina Holden of trinaholden.com

Making your own salad dressing is a quick way to take your salad game to the next level! It's also a great way to convince non-salad lovers to give it another try.
Here's why:
Quality. Making your own dressing allows you to choose top quality, fresh ingredients; eliminating the cheap and sometimes even toxic fillers and flavor enhancers in store-bought dressing.
Cost. Even when you choose higher quality ingredients than what you'll find in store-bought dressings, mixing your own can save money while producing a gourmet result.
Flavor. When you make your dressing fresh, using whole foods and natural seasonings, you get amazing taste with no need for flavor enhancers.
I've made salad dressings from scratch for years, but often find a regular blender container "too much of a good thing" for the small amount I need to blend. Imagine my delight when I found the Twister jar.
Not only does it do an excellent job blending the minimal ingredients needed for a batch of salad dressing, but it's small enough to tuck in my fridge, eliminating the need for an additional storage or serving container for the dressing! Here's our family's favorite salad dressing; it's slightly sweet for the kids, but has a nice, full flavor the adults love too.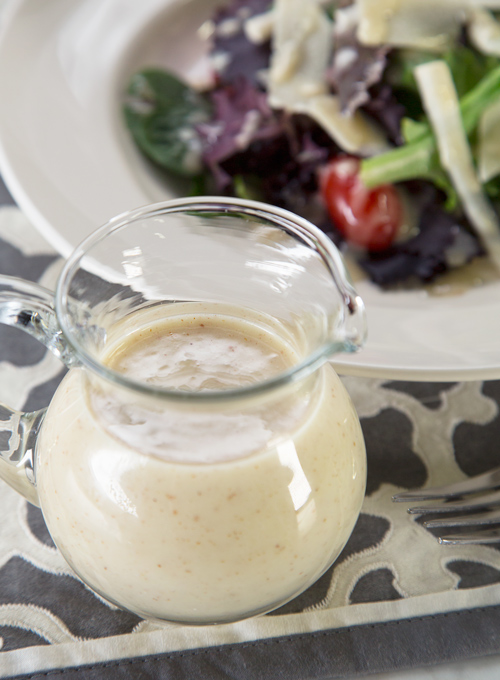 Maple Mustard Dressing
Makes ¾ cup dressing, serves 4–6
2 cloves garlic (peeled, but whole)
¼ tsp salt
½ cup olive oil
3 tbsp lemon juice
1 tbsp brown mustard
1–2 tbsp maple syrup
Ground pepper (to taste)
Add ingredients to Twister jar in order listed.
Attach the Gripper lid and blend at medium speed until garlic is chopped and mixture is smooth.
Serve over mixed greens with fresh pomegranate sprinkled on top for a unique, delightful salad. It's also lovely with grated carrots, chopped apples, toasted nuts, thinly sliced onions, and raisins.
Maple Mustard Dressing will keep several weeks in the fridge. If you have any leftovers, that is.
About the Author
Trina is the author of two real food cookbooks and blogs at trinaholden.com. She and her husband work together to create resources for families who want to fit more real food into their busy lives. They homeschool their four children in northeastern Alabama, and start many mornings with a big, fat, family smoothie.
---
1 comment
---
---