By Shannah Coe of Just Us Four
Hi everyone! I'm ecstatic to share one of my absolute favorite recipes for fall. Ever since I was a small child, our local church held an apple festival where they brought in apples from a more rural part of the state, and you could buy them along with apple cider and apple butter. It was definitely the highlight of our fall because there was a fair there too. Each year since moving away, I have asked my mom to pick me up some apple butter at the festival. This year, I was crushed to learn that they aren't offering it anymore.
So, I decided to fill the void with homemade (and super easy) apple butter. I knew my Blendtec would be ideal for making the apple butter because I wanted it smooth and creamy without the need for fishing out little chunks that didn't get blended well. Because I started with cooked apples, it really took just a minute or two to create a perfect apple butter.
We use apple butter on toast, English muffins, and even as a layer between pancakes. This homemade apple butter tastes amazing, and I like knowing exactly what went into it and using local apples to make it. This recipe is the perfect way to end a day of apple picking at an orchard! Of course, now you want to make it—so here's all the info you need!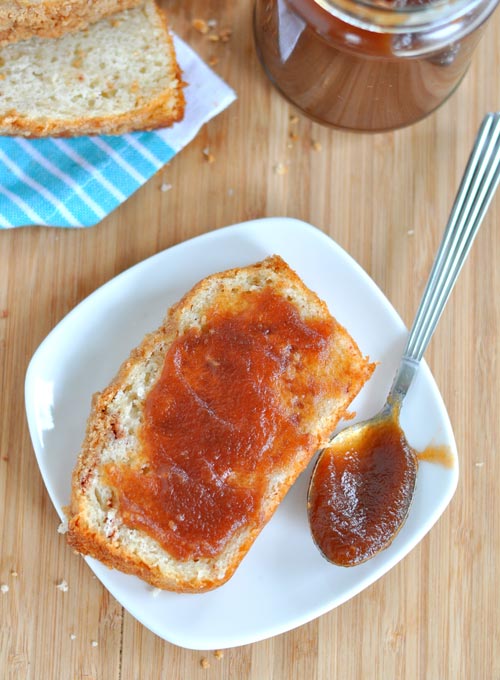 Homemade Apple Butter
Instructions
¼ cup water
1 tsp lemon juice
1½ tbsp molasses (real maple syrup works well, too)
1 Granny Smith apple
2 Fuji apples
1 tsp cinnamon
¼ tsp nutmeg
⅛ tsp cloves
Directions
Peel, core and slice apples. Place in ¼ cup water over medium-low heat and cook until softened (about 10 minutes). Drain well.
Combine apples and remaining ingredients in your Blendtec and press the Smoothie button. If your Blendtec doesn't have a Smoothie button, blend on a Low speed for 10 seconds, then a Medium to Medium-Low speed for 10 seconds, then Medium to Medium-High speed for 40 seconds.
Refrigerate until ready to use.
About the Author
Please come see many of my other great recipes including lots of paleo and gluten free items on my blog, Just Us Four. You can also visit me on Facebook, Pinterest and Instragram.
---