Goat Cheese Spread Recipe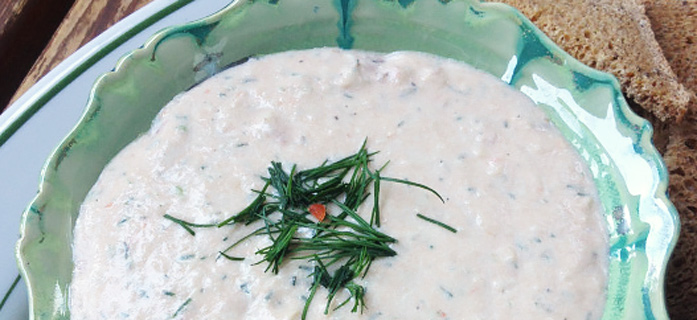 By 
Sarah Randall
 of 
Cook.Can.Read.
Nothing satisfies a savory craving like cheese. Salty and creamy, cheese balls and cheese plates are some of the most popular appetizers served at parties and gatherings. When I make a goat cheese spread, I want to have all the craveable elements of a dip, but not the heaviness of some of the traditional recipes I've made before. Using my
Blendtec
, I'm able to create spreads that are light and fresh. Here, I combined beautiful lox and fresh dill for flavor, cannellini beans for their signature smooth texture, and tangy goat cheese. The result is a creamy spread that is delicious and versatile. (For a lighter version, replace some of the goat cheese with beans for fewer calories and less fat without compromising taste or texture.) I think you'll like this as much as I do! Beyond entertaining, it's nice to have spreads on hand, whether hummus, guacamole, muhammara or this goat cheese spread with smoked salmon. You can use it for sandwiches—it's delicious with turkey, cucumbers, sprouts, and all manner of fresh greens—or mix a little into steamed or roasted vegetables like carrots, broccoli or roasted cauliflower. It can be served with pasta for a dish reminiscent of mac and cheese, satisfying your craving for creamy, gooey, cheesy pasta but in a lighter, flavorful way. Try it as a bagel spread, since the flavor combination was inspired by a classic bagel with lox and pickled onions, or in a wrap with vegetables, more salmon or lox, and/or hard-boiled eggs for a light lunch. Of course, you can serve it as an appetizer with crackers, rye crisps or raw vegetables. I'm lucky to live in a city with beautiful fresh markets and abundant options for quality produce and fish. Lox, or cold-smoked salmon, is a treat; another plus of this spread is that it highlights a special ingredient to perfection but only uses a small amount. I like the mild flavor of lox and its classic affinity for soft cheeses and dill, but a hot-smoked salmon would work just as well here. With your Blendtec, this goat cheese spread will be ready in no time. Treat yourself, or the guests at your next gathering, to a tasty, special dish.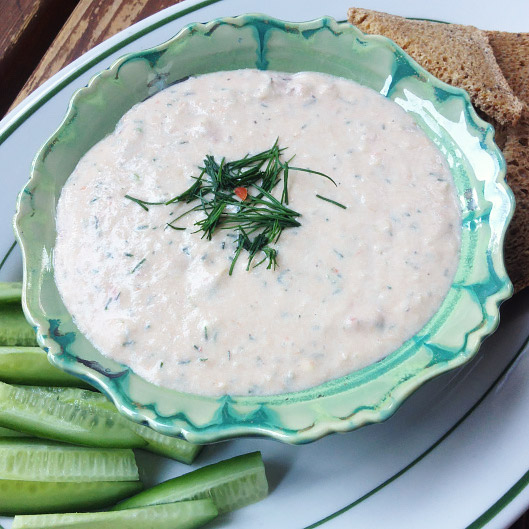 Goat Cheese Spread
Ingredients
2 tbsp minced shallots 1 tbsp red wine vinegar 1 cup cooked (or canned) cannellini beans, drained ¼ cup fresh dill, roughly chopped 2 oz lox, separated 4 oz goat cheese, softened salt & pepper to taste
Instructions
Combine the minced shallots and red wine vinegar in a small bowl and allow them to sit at room temperature for about 30 minutes. This will take some of the bite out of the raw shallots.
Put the shallot and vinegar mixture, cannellini beans, dill and 1 oz lox into the Blendtec

Twister jar

. Place Gripper lid on jar and run on Speed 4 for about 20 seconds, or until mixture is well blended. Remove the lid carefully and scrape the sides with Blendtec's Spectacula or a spatula.
Add the softened goat cheese, a pinch of salt and some freshly ground black pepper to the Twister jar, place the Gripper lid back on the jar and "Pulse" for 10-15 seconds, until the spread is smooth and creamy.
Roughly chop the remaining lox and use the Spectacula to mix it into the goat cheese spread, then transfer the mixture to a tightly covered glass or ceramic bowl and refrigerate.
Allow the flavors to meld for at least 4 hours before serving; the spread is better made the day before you want to serve it.
Taste and adjust salt and pepper before serving.
About the Author
Sarah Randall writes Cook.Can.Read, exploring international cuisines and flavors against a backdrop of locally-sourced ingredients. She grew up baking cookies with mom, watching Nana make Swedish dishes for the extended family, and picking strawberries on her grandfather's farm in Maine. Sarah loves to find new dishes to make for her husband and friends in Seattle and is an avid reader and maker of pickles and jams.
---