By Allyson Zea of Domestic Superhero
Hey y'all! I'm super excited to be sharing this delicious fall recipe with you today. Pumpkin butter is one of those fall foods that just doesn't stick around long enough. With this Easy Pumpkin Butter recipe, you can make it year-round and not worry about whether or not your grocery store has it on the shelf. Plus, it's a lot healthier when it's homemade!
Since getting my Blendtec, I have been experimenting with all types of recipes, and every day I'm amazed at what it can do. It's awesome for everything from smoothies to mixing, to more complex things like making pasta and! I knew that using my Blendtec would be ideal for making pumpkin butter because the pumpkin mix must be incredibly smooth. (With other blenders I am always left with chunks of things floating around!)
After tossing all the ingredients into my Blendtec and letting it rip for a few seconds, I was able to smooth out the mix completely. After blending, you just need to cook it up on the stove, which doesn't take much time at all. I love having pumpkin butter on hand because there are so many awesome uses for it. I really love to spread it on toast in the morning, or use it to spice up my oatmeal. Smoothies or protein shakes are another great way to incorporate pumpkin butter; it adds a fall flair and delicious taste! Want to make it yourself? Here's how: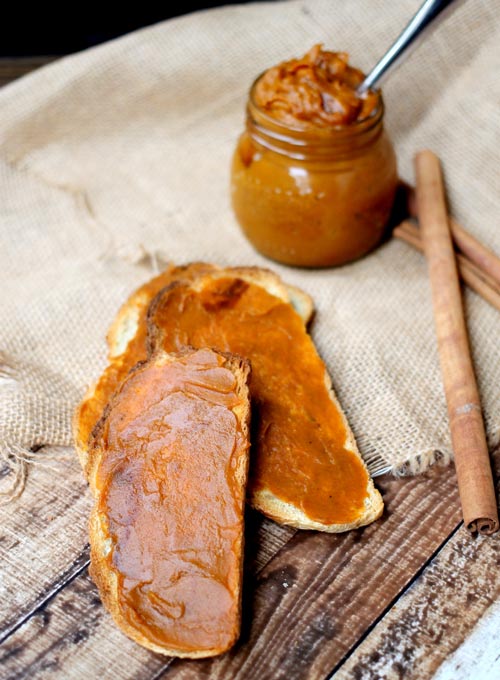 Easy Pumpkin Butter
Ingredients
2 cups pumpkin puree (not pumpkin pie filling)
2 tbsp apple juice
½ cup brown sugar
½ tbsp ground cinnamon
¼ tsp ground nutmeg
½ tsp vanilla
2 tbsp maple syrup
1 dash of salt
Directions
Add all ingredients to Blendtec and press "Smoothie." (If your blender doesn't have a Smoothie button, blend on a Low speed for 10 seconds, then a Medium to Medium-Low speed for 10 seconds, then Medium to Medium-High speed for 40 seconds.) When cycle ends, shake a bit, then run the smoothie cycle once more.
Scrape pumpkin mixture into medium pot and place on stove over medium heat. Increase heat to medium-high and bring to a boil. Place a wooden spoon in the pot and put the lid on top, allowing the lid to stay propped open with the spoon. (You want the steam to be able to escape, but if you don't cover it slightly, the mixture will splatter everywhere.) After bringing it to a boil, reduce heat to medium and cook for 10 minutes, stirring occasionally.
The pumpkin butter will thicken up a bit, and if you cook it longer it will continue to thicken.
Remove from heat and allow to cool. Store in airtight container in the fridge for up to 4 weeks.
Makes 2 cups  
About the Author
For more delicious recipes, head over to my blog, Domestic Superhero, where I share lots of easy, home cooked meals. You can also follow me on Pinterest, Facebook, or Instagram for some major food inspiration!
---
2 comments
---
---