Desserts to Make Using Candy Canes
Winter is here, and the holidays are right around the corner. People are setting up their Christmas trees, putting up lights and getting ready to celebrate with friends and family. With so many holiday parties planned for the next few weeks, you may be wondering what you should make for the festivities. I love to use candy canes during this time of year; they're everywhere and they're pretty inexpensive. So here are a few candy cane treats that are perfect to make for holiday parties, with the help of your trusty
Blendtec blender
.
Peppermint Hot Cocoa
Hot cocoa and peppermint...Yum! I just love that combination, and this 
Blendtec recipe
is a winner. This simple and fast cocoa is sure to please all your party guests. But don't reserve it just for parties—this recipe is great on a quiet night with your family.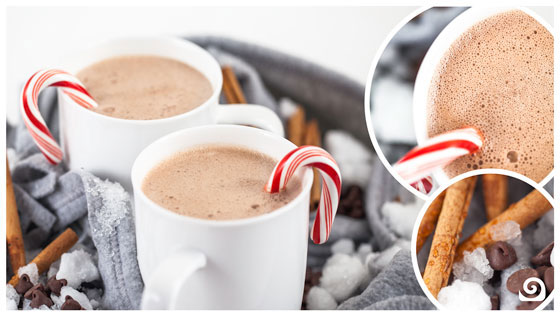 Blendtec's Peppermint Hot Cocoa
Best Blender Brownies
Up the flavor factor of this delicious recipe by adding candy canes. After you pour the batter in a pan, sprinkle crushed candy canes on top. Alternatively, mix the candy canes in with the batter. ¾ c butter, melted ⅔ c semisweet chocolate chips 3 large eggs ½ c cocoa powder 1½ c granulated sugar 1 tsp vanilla extract ⅞ c all-purpose flour Preheat oven to 350°F. Add butter and chocolate chips to
WildSide+ jar
. Secure lid and select "Batters." Add eggs, cocoa, sugar and vanilla to jar. Secure lid and press "Pulse" 3–5 times. Add flour, secure lid and pulse 3–5 times. Use spatula to scrape down sides of jar. Pour batter into greased 9" x 9" or 11" x 7" pan. Bake for 30 minutes or until wooden toothpick inserted in center comes out clean.
Cookie-Peppermint Balls
Another delicious and super-easy treat to make for the holidays is Cookie-Peppermint Balls. 1 pkg original (not double stuffed) OREO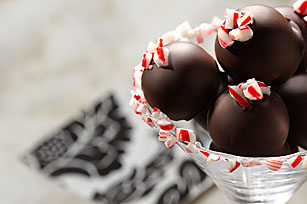 Peppermint-Oreo™ Cookie Balls
Courtesy of Kraftrecipes.com[/caption] cookies 1 pkg cream cheese, at room temperature chocolate or almond bark candy canes Add cookies to 
FourSide jar
or
WildSide+ jar
. Secure lid and press "Pulse" until cookies are crushed. Pour crushed cookies onto kitchen counter or into large bowl. Use your hands to mix crushed cookies and cream cheese until you can form little balls that don't fall apart. Heat chocolate or almond bark in microwave or on stove; make sure to heat slowly to avoid burning. Meanwhile, add candy canes to jar, secure lid and pulse until candy canes are crushed; pour in separate bowl. Place wax paper on cookie sheets. Dip balls in melted chocolate or almond bark, and roll in crushed candy canes. Place balls on cookie sheets, and refrigerate until cool,  approximately 1 hour. What foods do you like to make with candy canes?
---
3 comments
---
---