By Britney Mills of The Princess and Her Cowboys
Autumn is the perfect time for fun outdoor activities with friends and family. Sometimes a recipe or a type of food brings back a memory filled with good times. One of those memories is going apple picking with my friends. We would go out into the orchard and pick a couple of bushels. Then we would come back to our apartment and make a few treats with them.
Apple crisp has always been one of my favorites mostly because I love the flavors of the spices that go into it. When I'm making on my own, I can't resist sneaking a little bit of the topping to snack on while I get things ready. My in-laws are really into pies and I thought it would be fun to mix their love of pie and my love of apple crisp into one delicious pie! 
The best part of this is that the preparation doesn't take very long, which means you can get back to spending time with your family while you wait for the pie to cook. I use the Blendtec Twister jar to make the crust—and it's so easy. If you have fresh apples, you can easily find a recipe out there for pie filling. Otherwise, you can just use canned apple filling and it tastes just as good. Add the topping over it all, bake, and you're ready with a treat you can serve with whipped cream or ice cream.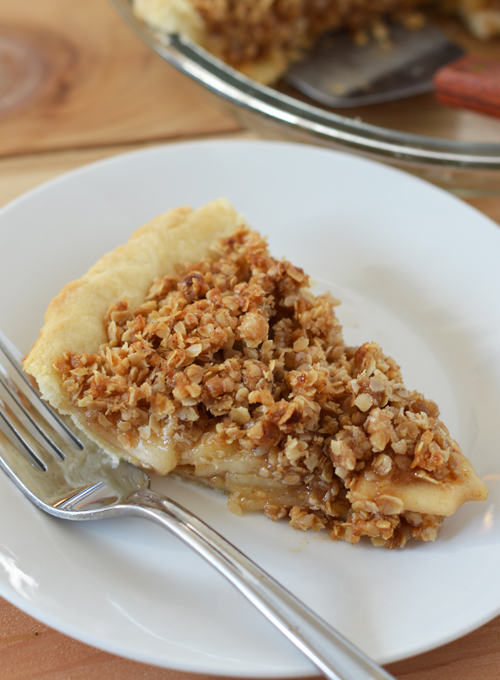 Apple Crisp Pie
Ingredients
½ cup butter
¾ cup flour
½ tsp salt
¼–½ cup cold water
2 cans apple pie filling, (21 oz each)
1 cup oatmeal
½ cup brown sugar
⅓ cup melted butter
Directions
Place your Twister jar in the fridge for 10–15 minutes. Put the first 4 ingredients into the Twister jar. Put the jar on your Blendtec.
Using one hand, turn the lid counterclockwise and use the other hand to press Pulse 8–9 times, or until everything is incorporated.
Remove dough from jar and roll out on a floured surface. Place it in a pie plate and pour in the pie filling.
Mix together the last 3 ingredients, either in your jar (press Pulse 3–4 times) or in a small bowl, and sprinkle on top of pie filling.
Bake at 375º for 25–30 minutes or until crust is golden brown.
---