Apple Cider Donut Muffins
By Sharon Lachendro of What The Fork Food Blog
While summer totally has my heart forever, I do enjoy fall treats, flavors, smells, sights and sounds. Windy days with the leaves blowing and scratching the pavement, the sound of tractors pulling wagons full of people through the orchards for apple picking, the beautiful foliage here in New England, cool crisp air in the early morning and evening, fall spices, apples, pumpkins, and more. These healthy apple cider donut muffins are the perfect fall food that sums up the smells and tastes fall has to offer.
The inspiration behind these healthier blender muffins comes from my favorite baked Apple Cider Donuts. Traditional apple cider donuts are every little bit the quintessential fall treat. They're tasty fried donuts that are dipped in butter and rolled in cinnamon and sugar. They are soo good! They're not the healthiest breakfast (but totally worth the splurge sometimes). Boo to calorie-busting breakfasts you can't have all the time, right? These healthy apple cider donut muffins are the perfect compromise. They have all the fall spice flavor of the apple cider donuts you love, just without the guilt (and the cinnamon sugar coating). These babies are healthy! They're gluten-free, egg-free, dairy-free, and naturally sweetened with honey—so no granulated sugar! You can pop these in your mouth all morning long and keep your stomach happy. And of course, you can totally splurge a little on the cinnamon sugar coating if you must.
One of the best parts about these bite-sized muffins is that they're made in the blender. You just dump in all your ingredients, blend, and pour the batter right into your muffin tins. It makes it prep time fast and easy—and who doesn't love that? I also love that I can pour straight from the blender jar. No more spooning, scooping, spilling, and making a huge mess. It's breakfast from a blender that you can chew. Enjoy!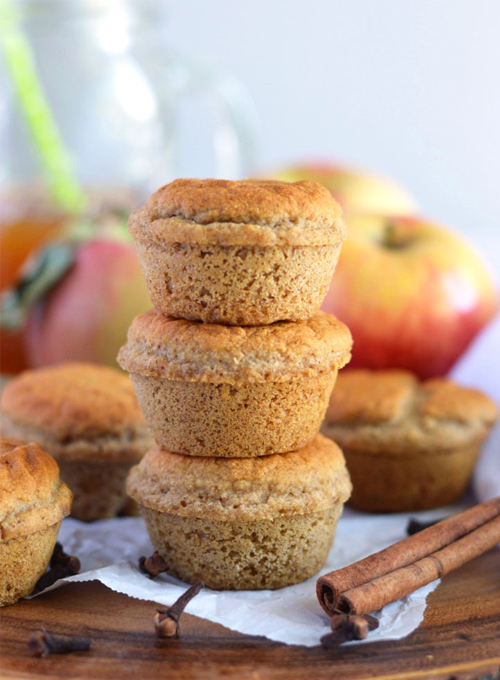 Apple Cider Donut Muffins
Ingredients
1 cup apple cider
¾ cup unsweetened applesauce
1 tsp vanilla extract
¼ cup honey
2 cups gluten free all-purpose flour
1 tsp xanthan gum
1 tbsp baking powder
¼ tsp fine sea salt
1 tsp baking soda
1 tsp ground cinnamon
¼ tsp ground cloves
Directions
Preheat oven to 400 degrees and spray a mini muffin pan (that holds 24 mini muffins) with non-stick spray.
Add the apple cider, applesauce, vanilla extract, and honey to your Blendtec and blend until combined. Add the remaining ingredients and blend just until all ingredients are combined.
Pour the batter evenly into the 24 mini muffin cups and bake at 400 degrees for 10–12 minutes or until a toothpick comes out clean.
Cool on a wire rack and serve hot or at room temperature.
About the Author
You can find more from Sharon on her website,
What The Fork Food Blog
or connect with her on
Pinterest
,
Facebook
,
Twitter
, or
Instagram
.
---
2 comments
---
---