10 Uses for Leftover Smoothie
What to do with leftover smoothies? When I make a smoothie in my Blendtec blender, I sometimes make too much. What to do? Sure, I could put the leftovers in the fridge and drink it later, but where's the fun in that? Here are some (un)tried and (maybe) true ideas for your leftover smoothie.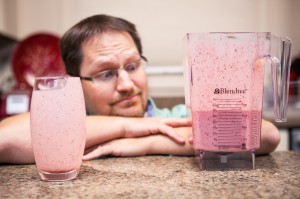 1. Add oatmeal to create a facial mask.
2. Blend together with other leftover smoothies to create the ultimate megasmoothie.
3. Thicken with flour until dough-like, then place in the oven to make "smookies."
4. Use as an overnight meat marinade. (Not recommended for smoothies with dairy ingredients.)
5. Freeze into smoothie cubes, and then build a little house with the cubes.
6. Blend in more ingredients to freshen up the smoothie. Think friendship bread starter.
7. Play "Guess the Smoothie" at your next party.
8. Freeze-dry for later use. Just add water!
9. Feed it to your terrarium pets.
10. Post a picture of it on Facebook, and ask for advice on what to do with it.
Any other ideas? Sound off!
---
3 comments
---
---