By Sherrie Scaglione Castellano of With Food + Love
It is finally summer in my neck of the woods, and that means strawberry season is upon us. There are few things in this life that make me as happy as strawberry season in the summertime. For me, that's what life is all about—enjoying farm fresh, simple and seasonally appropriate foods with the people you love. This Strawberry Swirl Superfood Smoothie is like summer in a glass.
I've combined strawberries and bananas with coconut milk, hemp seeds (these pack tons of plant-empowered protein plus healthy fats), and a handful of purifying greens (reach for lighter greens like romaine hearts or green leaf lettuce to keep it nice and pink). This smoothie is super well-balanced, good enough for breakfast or an afternoon snack, and yummy enough for dessert or evening treat.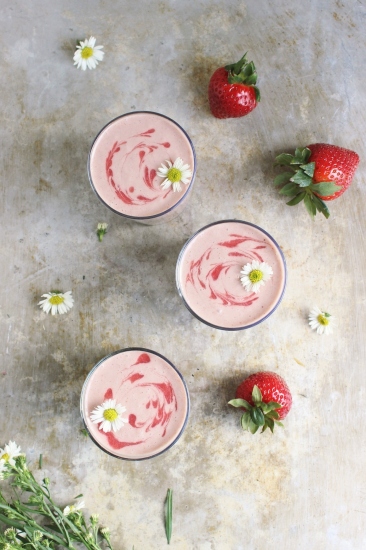 Strawberry Swirl Superfood Smoothie
Serves 2 Smoothie Ingredients:
1½ cups strawberries
1 banana
1 cup greens (I used romaine)
1 cup of light or full-fat coconut milk
1 tablespoon hemp seeds
2 - 3 cubes of ice
Swirl Ingredients:
handful of strawberries
dollop of honey
Directions: Combine all the smoothie ingredients in your Blendtec and blend until smooth. Rinse out your Blendtec, then blend your swirl ingredients until smooth. Decorate the tops of your smoothie with strawberry swirls and serve right away. Enjoy!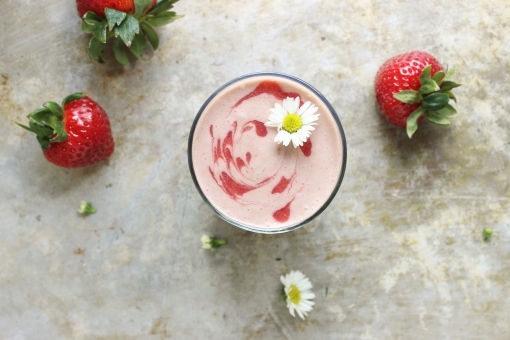 Sherrie is a Board Certified Health Coach + Food Blogger who writes, With Food + Love. She specializes in helping women and families eat clean, cook well + feel good, through plant-empowered diets + lots and lots of love. Currently she lives in Philadelphia, PA with her husband and very sociable cat. Together they enjoy the simple life, eating amazing food and traveling as often as they get the chance.   Connect with her: Facebook, Twitter, Instagram, or Pinterest