Roasted Carrot-Apple Soup [Recipe of the Week]
Roasted Carrot Apple Soup
Ingredients
6 med carrots, peeled, trimmed and roughly chopped
½ med yellow onion, roughly chopped
1 apple, peeled, quartered, cored and roughly chopped
1 tbsp olive oil
2 cups vegetable broth
1 tsp dried thyme
¼ tsp ground black pepper
¼ tsp kosher or sea salt
¼ tsp celery seed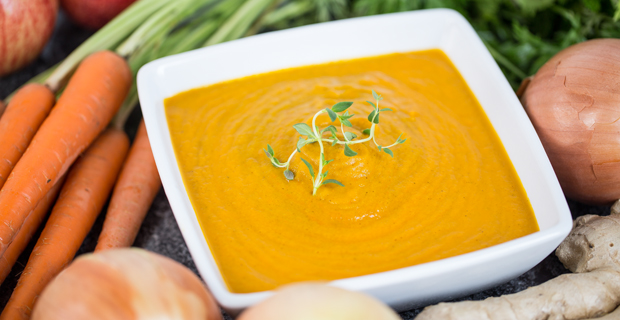 The carrot, apple and onion flavors blend beautifully together in this soup. It also gives you a wonderful option to use produce already in your kitchen. Simply chop up some carrots, an apple and some onion, place them in a pan and drizzle them with olive oil (or another oil of your choice) and roast them for 30 minutes. Then, throw them in the blender with the vegetable broth and spices.
You'll  have a thick, flavorful (and even vegan) soup ready before you know it! There are 140 calories and 5.5 grams of fiber in each serving (1 cup) so it makes for a healthy meal choice. We encourage you to try your own spin on it as well. You can give it a kick by adding some ginger or try adding other spices you enjoy.
Let us know what variations you try! Share with us in the comments below or on the recipe page.
---