By Chef Chaya-Ryvka of The Living Vision
The winter holiday season is once again upon us. In my experience, nothing brings out the warmth and nostalgia of the season like good food, warming spices, light in the darkness and gatherings with family and friends. Families across America and Canada have enjoyed Eggnog during the Thanksgiving and Christmas seasons for hundreds of years. It's now popular throughout the entire winter season, and has been turned into tasty lattes, milkshakes, and puddings, as well as a traditional party drink served with rum, brandy, or bourbon.
Traditional eggnog consists of raw eggs, milk, cream, sugar and nutmeg. My recipe gives you a healthy twist on this holiday favorite. Seasonal fuyu persimmons act as a thickener and offer a delightful flavor packed with vitamins, minerals, antioxidants and enzymes. And raw almond butter creates a creamy texture.
You can whip this Raw Persimmon Almond Butter Nog up in a matter of minutes in your Blendtec blender. You can serve it as is or add your favorite eggnog spirit if you desire an "adult" nog. You can also add some chia seeds after blending for a healthy omega 3 and protein-rich holiday pudding. Or add some ice for a nog smoothie. Even make a nog milkshake by adding ice and additional almond butter.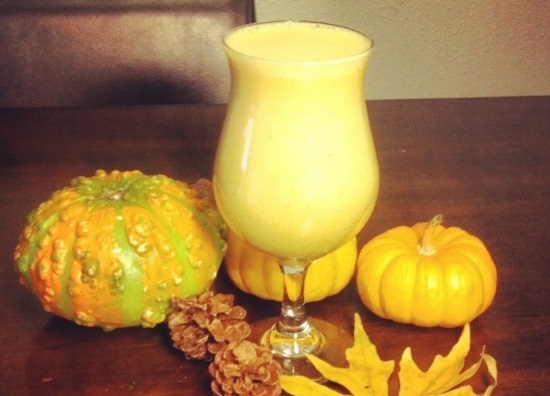 Raw Almond Butter Nog
Serves 4
Ingredients
2 ½ cups purified water
2 small or 1 large organic fuyu persimmon, cubed
3 tbsp raw almond butter
3 tbsp grade "B" maple syrup or liquid sweetener of choice
½ tsp *Ceylon cinnamon
¼ tsp ground nutmeg
¼ tsp vanilla powder or extract
⅛ tsp almond or rum extract
Instructions
Place all of the above ingredients into your Blendtec blender and blend on high until smooth and creamy.
Serve in your favorite festive glass, add drizzle of maple syrup and sprinkle a bit of nutmeg or cinnamon right on top.
If you choose to add a spirit as is traditionally the custom with eggnog, I suggest adding 1 to 2 more tablespoons of maple syrup and about an ounce and a half to two ounces of your preferred spirit (brandy,  rum, or bourbon) per serving.
Make sure to add the alcohol before blending for best consistency.
Consume right away, and make new batches as needed.
Happy and healthy holidays!  
*If all you have at home is regular cinnamon you can use that. Start with less because it has a stronger and more pungent flavor. Find out more about the health benefits of Ceylon Cinnamon here.
---