Keeping Weight off during the Holidays—the Blendtec Way!
With the holidays in full swing, we're tempted daily with all the yummy treats that seem to always be right before our eyes. How can we navigate all the goodies and keep weight of during the holidays?  Here at
Blendtec,
 we're lucky to have Kali White, our on-site personal trainer (certified through NASM). Kali shared 12 tips with Blendtec employees on how to win the battle of the bulge this holiday season. The tips are so great, I thought I should share them with our Blendtec community!
Eat at least 7 servings of fruits and vegetables a day (1 serving = ½ cup).
Take healthy, low-calorie treats (instead of the usual sweet treats) to holiday parties.
Wear your tennis shoes to work or when you go shopping—you'll be motivated to walk more and faster.
Drink at least 64 ounces of water a day.
Take a multivitamin.
Bring a healthy snack with you when you shop instead of grabbing a quick treat or fast food.
Drink water instead of sugar-filled soda at holiday parties and family gatherings.
Go for a walk before dinner.
Go an entire day without consuming added sugar—no desserts, sweet breads, soda, sweetened cereal, etc.!
Play an active game with your family and friends instead of watching TV or going to a movie.
Get at least 8 hours of sleep at night.
Exercise at least 3 days a week.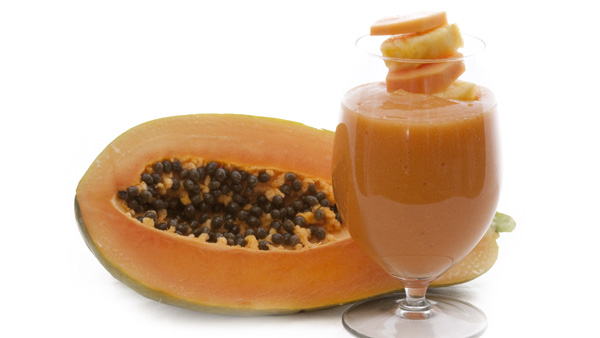 Blendtec's Papaya Passion Smoothie You can go a long way toward consuming 7 servings of produce by starting your day off with a smoothie. (Preparing it in your 
Blendtec blender
 will make the meal healthy 
and
 fast to prepare!) Drinking a smoothie may also satisfy your sweet tooth on those days you decide to nix added sugar from your diet, and you'll likely have more energy to be active throughout the day. Check out Blendtec's
healthy 
fruit smoothies
 and 
green smoothies
—they're a delicious addition to your strategy to keep the pounds off this holiday season. Happy Holidays to All!
---
1 comment
---
---