Last week I explained what cross-training is and why it's beneficial. Today, I'm going to discuss how to get started and how to create your own cross-training program.
Getting Started If you're just starting a cross-training regimen, start slow and gradually build your strength and abilities. As your overall fitness level and abilities increase, you can step up the intensity of your workouts and try new activities that you may not have been ready for before.
To start out, list 10 exercise activities or circuits to draw from any given week. Then, exercise 30–60 minutes a day, 5–6 days a week, choosing different exercises on your list (try not to do the same activity more than twice a week). After a few months, throw in some new exercises or activities. Tons of resources are available online that can help you come up with exercise ideas, effectively schedule your workouts, and ensure correct form.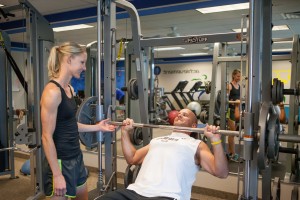 Work out with a friend or group for motivation.
Your greatest challenges may include being consistent (with nonconsistent exercises, of course) and being disciplined. To overcome these obstacles, find one or more workout partners. The larger your support group, the better. Even if you don't always exercise with your partners, you'll feel accountability and a motivation to complete your workouts. If you're doing it alone, write down workout goals and keep a schedule. You may want to tally each workout you complete and reward yourself if you meet your goal(s) for the month.
It's important not to give up. We all slack a little sometimes, but don't let a bad day turn into a bad week, and don't let a bad week turn into a bad month. It may take you anywhere from 2 to 8 months to really form the habit of cross-training, but I promise you it'll be worth it. If you stay in it for the long haul, you'll be healthier, feel better, and have more energy. Expect more and live better. You can do it!
Example of a Good Cross-Training Schedule If you're just starting a cross-training program, your schedule may consist of walking for 30 minutes 3 times a week and doing stairs, strength training, yoga, cycling, and/or stretching on the other days. Remember to start with activities that match your current fitness level and then build slowly. My schedule usually looks something like this:  
Monday:          1 hour strength training / or swimming
Tuesday           1 hour cardio and circuit training / or cycling / or trail running
Wednesday     1 hour circuit training / or basketball / or tennis
Thursday         1 hour cardio and strength training / or sprints / or mountain biking
Friday               1 hour workout video (Insanity or P90X) / or running / or rest
Saturday          Wakeboarding and waterskiing / or mountain biking / or cycling
Sunday             Rest and recovery
Here's an example of a cardio and circuit-training routine:
Repeat entire workout 2–3 times.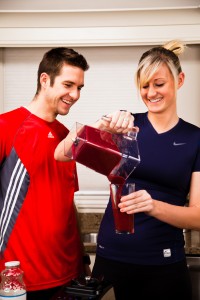 The Blendtec lifestyle includes healthy eating and exercise.
Important Reminders and Tips
Go at your own pace.
Don't get discouraged.
Push yourself, but be patient.
Be consistent.
Mix it up.
Listen to your body.
Eat a healthy diet.
Cross-Training for Life Cross-training is the way to realize all the benefits of exercise. Cross-training dynamically strengthens the cardiovascular system,  muscles, bones, and joints while reducing body fat and improving flexibility, agility, balance, and coordination. If you want to commit to a lifestyle full of health, vitality, and energy, commit to cross-training. Commit to fitness and nutrition. Commit to the Blendtec lifestyle.
More Cross-Training Exercise Ideas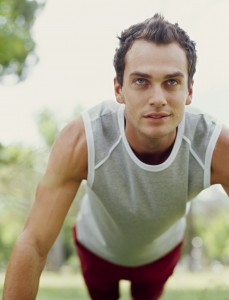 Push-ups are great for strength training.
 Strength Training:
Push ups/sit ups/pull ups
Free weights
Gym machines
Cardio:
Running
Swimming
Cycling
Mountain biking
Stair climbing
Rope jumping
Rollerblading
Skiing/snowboarding
Basketball/tennis/racquetball
Rowing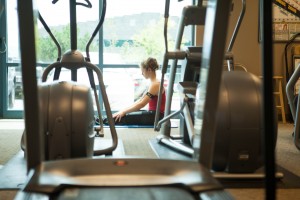 To increase your flexibility and strength, include yoga, Pilates, and dynamic stretching in your cross-training.
Strength and Flexibility:
Cardio/Speed/Agility/Balance:
Circuit training
Sprints
Plyometrics
Workout videos
Skill conditioning
Which exercises do you plan to add to your regimen?