By Jenna Braddock of Make Healthy Easy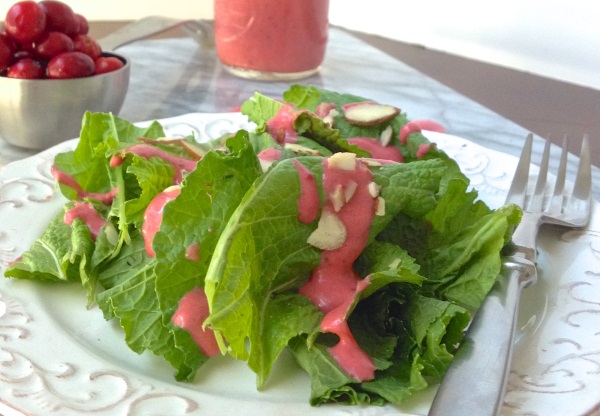 When October comes around, there's a food that always grabs my attention in the grocery store. And, honestly, makes me pretty excited. It's not pumpkin (though I do love it). I'm talking about fresh cranberries! It's unfortunate that these berries are only available a few short months out of the year. It's worse that we typically only enjoy cranberries on Thanksgiving and Christmas. They are so delicious and full of amazing nutritional value that they warrant more ways to enjoy them on a daily basis.
Many people understand the benefit of cranberries for urinary tract health. But did you know that cranberries contain a high concentration of antioxidants and have been found to possess anti-inflammatory and anti-cancer properties? Thus they have the potential to benefit your heart, gut, and immune system. In my effort to find another way to enjoy cranberries every day, I developed this easy Cranberry Vinaigrette. It's a really beautiful color and loaded with superfoods. And thanks to Blendtec, the consistency is super smooth and creamy without the need for cream! This festive dressing will jazz up a ho-hum dinner or impress guests at a holiday gathering. So stock up on fresh cranberries now and freeze them to enjoy all year round. Give this vinaigrette a try or throw the cranberries into your favorite Blendtec smoothie. Enjoy!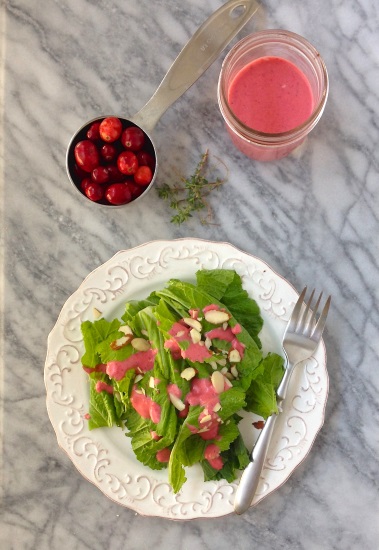 Cranberry Vinaigrette
Ingredients
1 cup fresh cranberries
1 tangerine or small orange, cut in half
¼ cup honey
¼ cup plus
2 tablespoons extra virgin olive oil
1 tablespoon white wine vinegar
1 tablespoon loosely packed fresh thyme leaves
½ tsp Kosher salt
⅛ tsp fresh ground pepper
Instructions
1. Put the cranberries and the juice of one half of the tangerine (or orange) in a small sauce pot over medium heat. Let come to a boil, then reduce to a simmer and cook for about 5 minutes, until all cranberries have popped and liquid has thickened. Remove from heat and let cool for about 5 minutes.
2. Add the cooked cranberries, olive oil, honey, the flesh of other tangerine (or orange) half, vinegar, thyme, salt and pepper to the Blendtec WildSide+ jar or Twister jar. Blend on medium-high (level 8) for 30 seconds or until vinaigrette is smooth. Serve over salad greens or tossed into a cold grain salad like orzo or quinoa. Makes about 9 oz or a little over 1 cup. Can be refrigerated for up to a week.  
About the Author Jenna Braddock, MSH, RD, CSSD is a registered dietitian, recipe developer and blogger at JennaBraddock.com where she is all ways to "Make Healthy Easy." Follow her real-life strategies and tips on Twitter, Instagram, and Pinterest @JBraddockRD.
---