The Blendtec Stealth is an integral part of players' training recovery.
People who know nutrition also tend to know Blendtec. It's no accident. Inevitably, as Blendtec's reputation for performance and innovation continues to spread, more and more professional organizations are aligning themselves with the Blendtec brand.
The latest converts are the St. Louis Rams. Or, specifically, the team's dietitian and chef, Shawn Zell. Zell says the decision was based on the power and technology of the blender.
"There are 100 individual orders that we fulfill each day," says Zell. "We do our best to make sure that the players are getting the best fuel and the best recovery that they can possibly get. These blenders are state-of-the-art, and we really get the job done pretty quickly."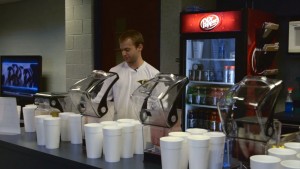 St. Louis Rams dietitian Shawn Zell uses Blendtec Stealth blenders to prepare recovery smoothies for players after a hard day of training.
Blendtec provided six Stealth blenders to the Rams. These blenders are not just fast—they're also the quietest, most advanced blenders on the planet. They feature a proprietary sound enclosure, which allows incredibly powerful blending at the noise level of normal conversation.
What's more, Stealth blenders are fully programmable. Using Blendtec's online Blend Wizard™, it's simple to program blend cycles to meet the specific blending needs of any diet. Tom Dickson, founder of Blendtec, says the sports industry is a natural fit for Blendtec's high-performance blenders.
"We're pleased to provide this technology to the Rams," he says. "This organization is another on a growing list of sports and fitness groups enjoying the benefits of Blendtec's professional blending equipment."
Dickson confirmed that the list of professional sports teams using Blendtec equipment also now includes baseball's St. Louis Cardinals.
See the Stealth in action in the St. Louis Rams kitchen: