Blendtec's Commercial Countertop Blenders
Hi Blendtec Community! I know you are all familiar with our fabulous residential blenders, particularly the Designer Series and the Total Blender. Today I'm going to introduce you to our equally fabulous line of commercial countertop blenders. Now you can "share the love" with any of your friends who would benefit from owning a Blendtec commercial blender. So without further ado…
EZ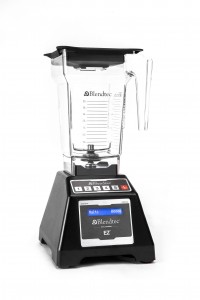 Blendtec's EZ blender is the most innovative entry-level blender on the market. It's the perfect combination of value and performance. When you're just starting out, you can't go wrong with the EZ's 30 preprogrammed blend cycles, no-tend touchpad controls, blue LCD display showing the current blend cycle and cycle count, and powerful motor .
SpaceSaver
When limited countertop real estate is your challenge, Blendtec's SpaceSaver blender is your answer because this low-profile blender takes up hardly any room on the countertop. The SpaceSaver has 30 preprogrammed blend cycles covering a variety of recipe categories, and you can also create customized blend cycles, helping ensure your special recipes turn out perfect every time.
Chef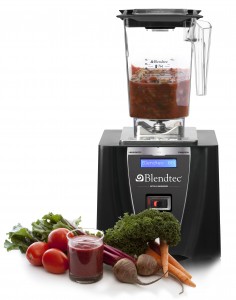 As any true culinary professional knows, no one blend fits all! For a recipe to become a masterpiece, precise blending speeds and durations are needed. Blendtec's Chef blender makes fine-tuning your masterpiece as easy as can be. The Chef has 20 available speeds, with speed-up/speed-down functions, high and low pulse options, and a memory function that enables you to save new blend cycles and manual operation sequences.
Q-Series
Blendtec's Q-Series blender is known for delivering speed, performance, and consistency with every blend. With a powerful motor and one-touch operation, any recipe can be prepared quickly and easily. The Q-Series also has an optional safety feature that automatically shuts off the blender motor when the sound enclosure is raised. Even more, the Q-Series is easy to clean—what more could you ask for?
Stealth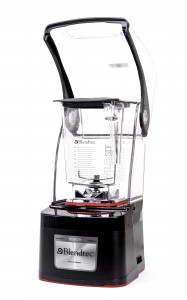 We are thrilled to add the Stealth blender to our lineup. In addition to its impressive 15-amp motor, the Stealth is also the world's quietest commercial blender, operating at the sound level of normal conversation. The Stealth also offers an industry first: a highly intuitive, illuminated touch surface that includes a slider control. And last but not least, updating your menu has never been simpler than with the Stealth. It's easy to create a blend cycle for your new recipe by using the Stealth's online Blend Wizard app, and then you can effortlessly load the new cycle on an entire fleet of Stealth blenders through the Stealth's USB port. Bam!  
To learn more about our commercial countertop blenders and to request additional information, visit blendtec.com/commercial.
---
4 comments
---
---