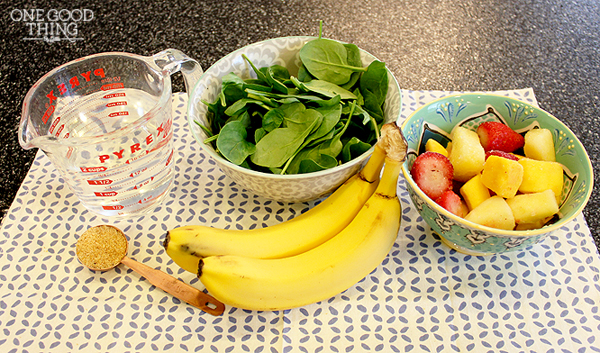 Jillee's Super Simple 2×4 Green Smoothie
Lately it seems like all I'm hearing about is JUICING, JUICING, JUICING! I began wondering if I needed to buy a juicer in addition to my Blendtec blender! (Isn't peer pressure grand?) But then I got to thinking about how great the smoothies I make in my Blendtec are and decided to look into the difference between the two.
Basically it boils down to this: by JUICING, you are getting a more concentrated amount of fruits and vegetables, but you aren't getting the same amount of FIBER that WHOLE JUICING (or smoothies) gives you from your Blendtec. I know for a fact that I don't get enough fiber, so for ME, I'm sticking with my smoothies! Especially my GREEN smoothie! This is packed with fiber, vitamins, and delicious stuff! 🙂
Here is my recipe:
Jillee's Super Simple 2×4 Green Smoothie
2 cups spinach
2 cups water
2 bananas*
2 cups frozen fruit of choice**
1 Tbsp flax seed meal
Add the water and spinach to the Blendtec and blend on the "Smoothie" setting.
Then add the rest of the ingredients and give it another spin on the same setting.
The resulting flavor is sweet, but not too sweet. And trust me, you don't taste the spinach at all! This makes a nice BIG smoothie that I enjoy throughout the morning! I hope you will enjoy it as well!
*If you don't want to use bananas, substitute another cup of frozen fruit.
**My favorite combinations of frozen fruit are:
1 cup frozen raspberries and 1 cup frozen peaches
2 cups tropical fruit mix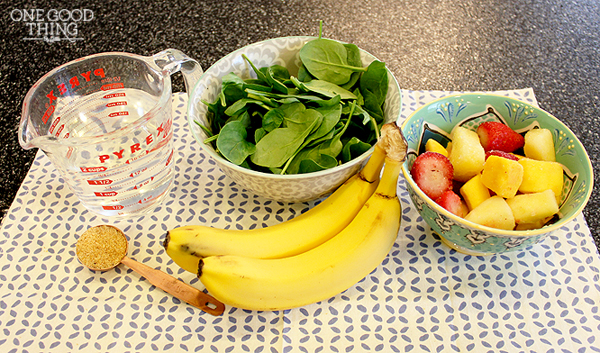 Check out One Good Thing by Jillee for some more great recipes and other tips.