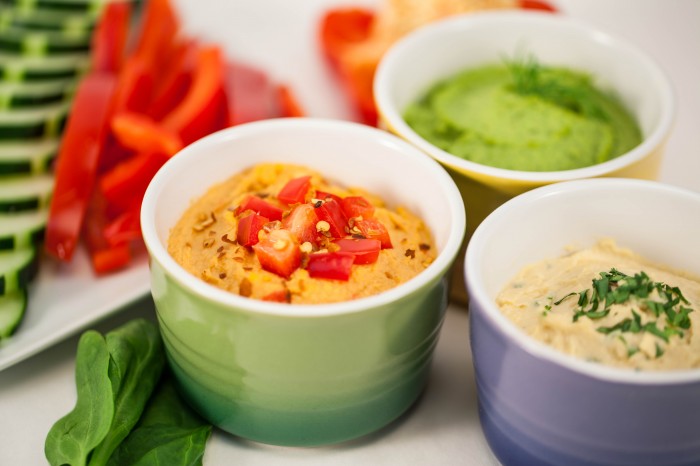 Hummus is a quick-and-easy snack food to make in your Blendtec blender and enjoy with chips, veggies, or pita bread.
This hummus recipe can be made in the Twister jar or the FourSide jar. (Using the Twister jar will result in a better consistency.)
2 tbsp olive oil
2 tbsp fresh lemon juice
2 tbsp tahini
1 clove garlic, quartered
½ tsp kosher salt
15 oz can chickpeas, drained and ⅓ c liquid reserved
If using Twister jar: Add ingredients, including reserved chickpea liquid, to Twister jar in order listed. Place Twister lid on jar. Hold lid with one hand, and with other hand select "Dips." Turn lid counterclockwise during blending.
If using FourSide jar: Add ingredients, including reserved chickpea liquid, to FourSide jar in order listed. Secure lid and select "Sauces."
If you like a bit more flavor, try adding some of the following delicious variations.
Smoky Sun-Dried Tomato Hummus
4 slices sun-dried tomatoes, packed in oil
¼ tsp smoked paprika
Repeat the "Sauces" cycle to ensure a smooth consistency
Kalamata Olive Hummus
½ c kalamata olives, pitted
Reduce salt to ¼ tsp
Roasted Garlic Hummus
Replace 1 clove garlic with 1 roasted garlic bulb, cloves squeezed out of skin
Chipotle Hummus
1 chipotle pepper in adobo sauce
1 tsp adobo sauce
Lime Cilantro Hummus
Replace lemon juice with lime juice
1″x 1″ piece lime zest
1 c cilantro leaves, loosely packed
Black Bean Hummus
Replace chickpeas and liquid with black beans and ⅓ c black bean liquid
½ tsp ground cumin
¼ tsp ground cayenne pepper
¼ tsp smoked paprika
Roasted Red Pepper Hummus
1 c roasted red bell pepper
½ tsp ground cumin
⅛ tsp cayenne pepper
Decrease reserved chickpea liquid to 3–4 tbsp
Let us know in the comments what your favorite hummus variation is.