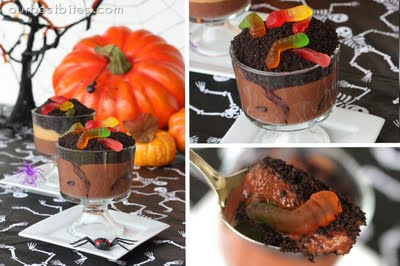 5 Great Halloween Party Recipes
Mummy Dogs
Pigs in a blanket with a Halloween twist.
Ingredients
1 pkg hotdogs, hotdogs halved lengthwise
2 pkgs refrigerated crescent roll dough
Instructions
Cut crescent rolls into thin strips. Wrap strips around hotdogs to look like mummies. Bake "mummy dogs" according to directions on crescent roll package or until golden brown. Place two dots of mustard on each hotdog for eyes.

Pumpkin Chocolate Chip Cookies
All the nutritious benefits of pumpkin baked into a delicious fall treat. This recipe is easy to prepare, and the result is a moist, sweet confection that is perfect for any Halloween party.
Ingredients
15 oz can pumpkin puree
1 box spice cake mix
1 c semisweet chocolate chips
Instructions
Preheat oven to 350⁰F. Combine all ingredients in large bowl, and blend until cake mix is moist. Place 1-tablespoon-size dough balls on greased cookie sheet. Bake for 8–12 minutes or until done. Cool for 5 minutes on cookie sheet, and then transfer to wire rack to finish cooling.
Roasted Pumpkin Seeds
Wondering what to do with all those seeds from the pumpkin you carved? Roasted pumpkin seeds provide a crunchy, healthy treat full of fiber, protein and healthy fats.
Ingredients
Pumpkin seeds
1 tbsp olive or canola oil
Favorite seasonings
Instructions
Place pumpkin seeds (rinsed or not rinsed) in a resealable plastic bag, pour oil over seeds and seal bag. Shake well. Spread pumpkin seeds evenly on cookie sheet. Sprinkle with your favorite seasonings. Roast at 275⁰F for 10–20 minutes or until golden brown. Let seeds cool completely before eating.
Night Crawlers in Dirt
Ingredients
3.4 oz pkg instant chocolate pudding mix and ingredients indicated on package to prepare pudding
Oreo cookies, cream scraped off
Gummy worms
Instructions
Prepare pudding according to package directions. Pour into cups. Add Oreo cookie halves to Twister or FourSide jar and secure lid. Run on Speed 1 until cookies are sufficiently crumbled. Sprinkle cookie crumbs over pudding. Place 4–5 gummy worms in each pudding/cookie cup to look like the worms are crawling out of the pudding.
Caramel Apples
Ingredients
Nonstick cooking spray
4–6 tart apples, such as Granny Smith
1 pkg individually wrapped caramels, unwrapped
Toppings, such as chopped nuts, candy and chocolate
Instructions
Apply generous amount of nonstick cooking spray to large piece of wax paper. Secure 1 ice pop stick in each apple, ensuring stick goes about halfway into apple. Melt caramel following package instructions. Dip 1 apple into caramel, and twirl until caramel stops dripping. Roll in desired toppings(s). Place apple on wax paper to harden. Repeat with remaining apples.
What are your favorite Halloween party recipes?
Photo credit: Our Best Bites