3 Free Exercise Apps to Check Out
Our blenders help hundreds of thousands of people maintain a healthier diet. As proud as we are of this, in most cases diet is only half of the healthy equation. Maintaining a regular exercise routine is as important as a healthy diet. Here are 3 free exercise apps that will help complete the exercise portion of your health equation.
RunKeeper
Description: This app is great for anyone interested in running, cycling, walking, and any other distance/endurance sport. The app will track your route via GPS, show your split times, and let you set and track goals.
Pros:
Works very well for running, walking, and cycling
Tracks your route via GPS and shows it on Google Maps
Allows you to set goals and track your weight
Keeps a detailed log of all exercise
Cons:
Does not provide exercise routines
Only works for endurance training, not strength training
MapMyFitness
Runs on iPhone, Android, Black Berry
Description: MapMyFitness is basically its own social network, where members share and motivate each other. This app also has GPS tracking and allows you to integrate with ANT+ products so you can monitor your heart rate. All of your data is synced to your online profile at www.mapmyfitness.com.
Pros:
Compete with friends and family online
Use GPS tracking with the Google Maps overlay
Manually add other types of exercise, like weight lifting
Easily share workout data via Twitter
Log food and count calories
Cons:
Training plans only available online
Manual workout entry has clunky interface
Fitness Buddy
Description: Designed for the gym goer and weight lifter, this app boasts hundreds of workouts, tutorials and guides. You can also log your progress in the built-in workout journal.
Pros:
300+ unique exercises
Many HD videos
Specific workout routines
Workout journal and progress tracking
Cons:
Mainly for strength- and muscle-building, not cardio
No GPS integration for running and cycling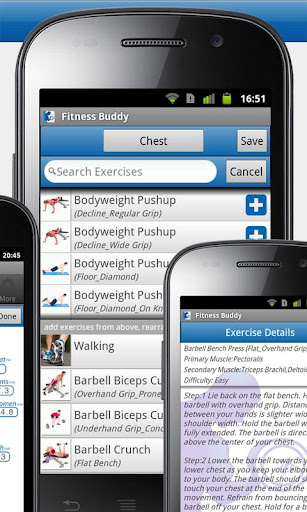 This is my take on a few of the great exercise apps out there. What exercise apps do you like?
Photo Credits: iTunes, Google Play