Why the Twister Jar Was Developed
There's nothing like dipping a cold, crisp apple into warm, creamy almond butter. People used to make nut butters in their FourSide and WildSide* jar by adding oil or stopping the blender midcycle to scrape partially blended nuts off the sides of the jar. That worked, but Blendtec's engineers thought there had to be a better way. We brainstormed dozens of concepts, selected the ones most likely to work and started prototyping. Our engineering lab smelled like almond butter for weeks! The end result is the one-of-a-kind Twister jar.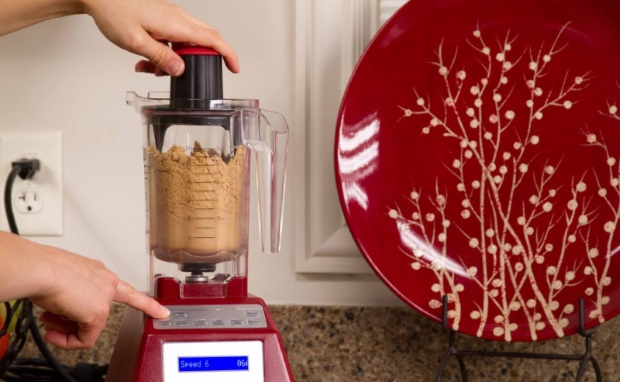 With the Twister jar, all you have to do is turn on the blender and twist the lid! The two tines on the Twister lid push the nuts back to the blade while you're blending. The result: warm, creamy nut butter in seconds. Want it crunchy? Just add a few nuts at the end of the cycle and pulse. Not into nut butters?  The Twister jar also works great for making perfectly blended hummus, flavored cream cheese and other thick spreads. Additionally, the jar is the right size for single-serving smoothies, baby food and many other recipes.
Whatever you've blended, you can use the custom-designed and specially contoured Spectacula, which comes with the Twister jar, to remove every last delicious bit from the jar. What would you like to try blending in the Twister jar?
*The WildSide jar is no longer available for purchase. Please check out our new and improved WildSide+ jar.