What Makes a High Power Blender?
Over the last few years, a new category of blenders has emerged, called high power blenders. Because of how new this category is, I thought it would be helpful to explain what it takes to be a high power blender.
Power
Power is probably the first thing that comes to mind when thinking about high power blenders. A high-powered blender has 1,000 to 1,560 watts of power. For comparison, here are a few common appliances and their average wattage:

High wattage gives high power blenders the ability to do things that other blenders can't do.
Capabilities
High power blenders have many more capabilities than an ordinary blender. Most ordinary blenders can handle soft fruit for smoothies and a few food processing tasks. A high power blender can do more than most people can imagine.
Heating soup in a blender is not something that people usually consider to be in the realm of possibilities. In a high power blender, you can turn room temperature ingredients into steaming hot soup in 90–360 seconds. Blendtec blenders can heat room temperature ingredients to 120°F in 90 seconds; other brands of blenders take about 6 minutes.
Grinding grains and coffee beans are other options in a high power blender. Just add 1½ cups of wheat or other grain to a high power blender, and blend on high speed. In a matter of seconds, you'll have fresh-ground flour. With the increasing prevalence of gluten-free diets, many people are using high power blenders to make their own gluten-free flours. The process is just as simple for grinding coffee.
Here are just a few other examples of what a high power blender can make: bread dough, milk shakes, ice cream, fruit smoothies, green smoothies, whole juice, pancakes, dips and almond milk. But that's really just the beginning—the options are almost limitless when it comes to what you can make in a high power blender.
Here is a video on how to make bread.
[youtube HK6ncgzQxXI]
Technology
Blendtec introduced many of the technologies you see in the high end blender market today. For example, we developed blend cycles over 20 years ago. Our blend cycles are microprocessor controlled and are designed specifically for the type of recipe you are making.  Simply push the "Smoothie" button if you want to make a smoothie. Push the "Ice Cream" button to make ice cream (the fastest ice cream you'll ever make, by the way).

Another technology found in high-powered blenders is a capacitive touch interface. Blendtec introduced this technology for two reasons: (1) We wanted to introduce a user interface that is beautiful and intuitive, and (2) without buttons and knobs, this interface is incredibly easy to clean.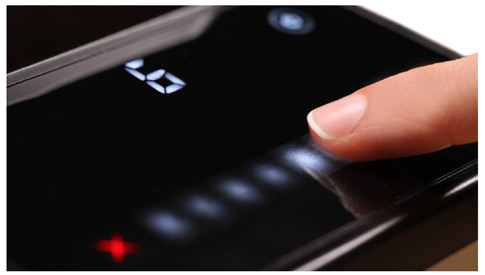 Warranty
High power blenders come with a price tag of around $400.00, so it's understandable that a potential buyer would want to feel confident the blender will last for a long time. The industry standard for high power blender warranties is 7 years. Such warranties usually cover everything but wear and tear and user damage. A normal blender usually has a warranty of 1 year or less.
Why Should You Care?
All the bells and whistles included with high power blenders can make it easy for you to add more fruits and vegetables to your diet—and live healthier in general. Hundreds of people regularly reach out to Blendtec after purchasing our high power blenders to let us know they use their blenders to maintain healthier lifestyles. But living healthier isn't the only benefit. We help you live simpler and have more time for the people and things you love, because our blenders are easy to use, cut down food-preparation time to minutes—if not seconds—and are easy to clean.
What characteristics do you think separate high power blenders from regular blenders?