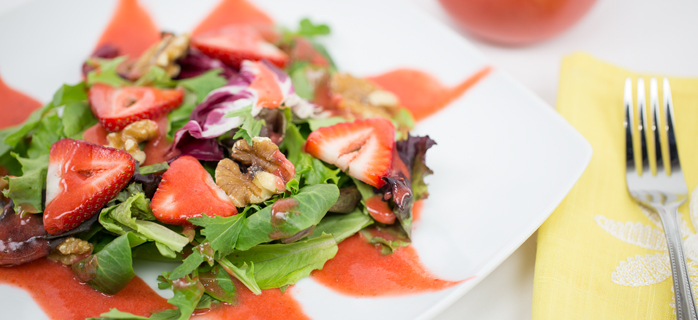 Strawberry-Ginger Dressing [Recipe Video]
Strawberry-Ginger Dressing
Get the full recipe on the Blendtec Recipes page.
This is a sweet dressing with a hint of ginger. It almost has an Asian taste to it. It's delicious and goes well with any salad that includes fruit (berries, mandarin oranges, etc.). This dressing pairs well with kale, spinach, or arugula, fruit, and candied or toasted almonds or pecans.
Ingredients
1 tbsp 
fresh ginger, peeled
Directions
Add ingredients to FourSide jar in order listed. Secure lid and select "Dressings."
NOTE: If your blender does not have a Dressings cycle, blend on Medium Low (speed 3 or 4) for 30 seconds.
You can also make this dressing in the Twister jar. Cut the recipe in half, add ingredients in order listed. Secure Gripper lid (do not use the Twister lid) and select "Dressings."