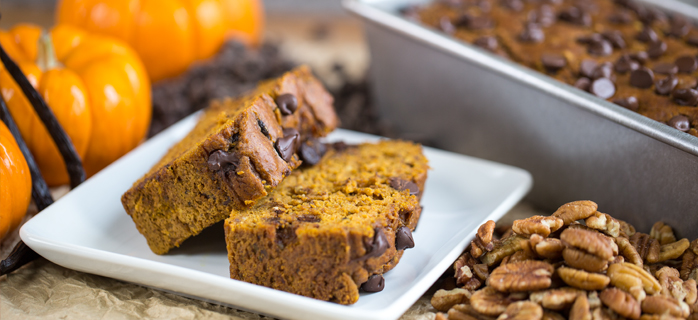 Spiced Pumpkin Bread [Recipe of the Week]
Spiced Pumpkin Bread
Ingredients
2 eggs
¼ cup canola oil
¼ cup applesauce
½ cup brown sugar
1 tsp vanilla extract
1 ½ cups cooked pumpkin
1 cup all-purpose flour
1 tsp baking soda
2 tsp baking powder
¼ tsp kosher or sea salt
2 tsp ground cinnamon
⅛ tsp ground nutmeg
⅛ tsp ground ginger
½ cup pecans
½ cup chocolate chips (optional)
Get the full recipe on the Blendtec Recipes page.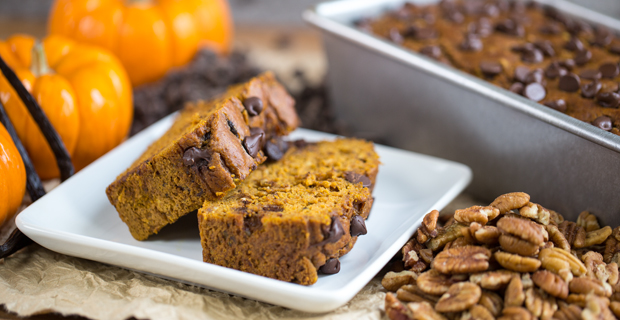 One of our favorite things about fall is pumpkin recipes! This extra moist pumpkin bread is full of flavor thanks to the cinnamon, nutmeg, and ginger. The pecans add a great texture (leave them out if you're not a nut lover). If you're the type that likes chocolate with pumpkin, add the optional chocolate chips! One of the best things about this recipe is that you can customize it to your liking. Each slice of this bread has only 150 calories and 1 gram of fat – not too bad for a tasty treat! This bread is easy to whip up and makes a great evening snack or a gift for a friend!
Are you a pumpkin lover? Make sure you "like" us on Facebook and/or follow us on Instagram – every Friday throughout the 2014 fall season, we'll post a different pumpkin recipe for you to try!