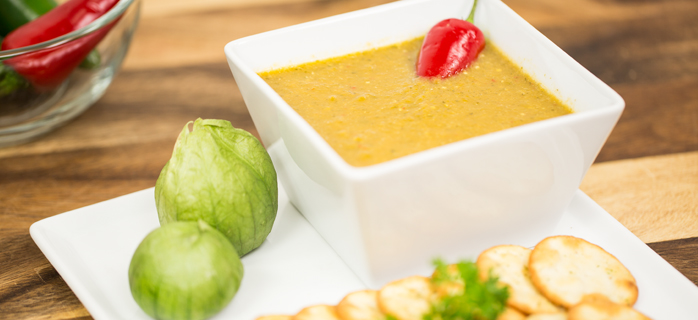 Salsa Verde [Recipe Video]
Salsa Verde
Get the full recipe on the Blendtec Recipes page.
This green sauce provides an incredible taste to any Mexican dish.
Not sure how to use it? Here are some ideas:
Drizzle on tacos, sopes or tostadas
Use as a filling in enchiladas
Add to tortilla soup (substitute the salsa)
Serve with tamales or chimichangas
Use in a Mexican casserole
Add to flautas (or taquitos)
Have over roasted chicken breast or a roasted fillet of fish (serve it over rice)
How would you use salsa verde? Share with us in the comments below!
Ingredients
1 ½ lbs tomatillos, husked and rinsed
2 serrano peppers, stemmed
2 cloves garlic
2 chunks onion, approximately ¼ cup
1 bunch cilantro, approximately 1 cup cilantro leaves
½ tsp salt
1 tbsp grapeseed or safflower oil
Directions
Place tomatillos, peppers and garlic in saucepan; cover with water. Bring to boil and simmer for 5 minutes. Remove tomatillos, peppers and garlic and allow them to cool.
Add tomatillos, peppers, garlic, ⅓ cup cooking liquid, onion, salt and cilantro to WildSide+ jar and secure lid. Select "Sauces." Heat the oil in saucepan over medium heat and add salsa to pan. Bring salsa to boil, stir and simmer for 5-7 minutes until it thickens. Cool and serve, or store in refrigerator.