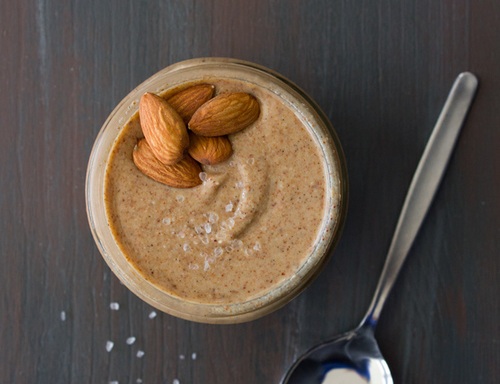 Raw Cinnamon Almond Butter
By Heather McClees of Soulful Spoon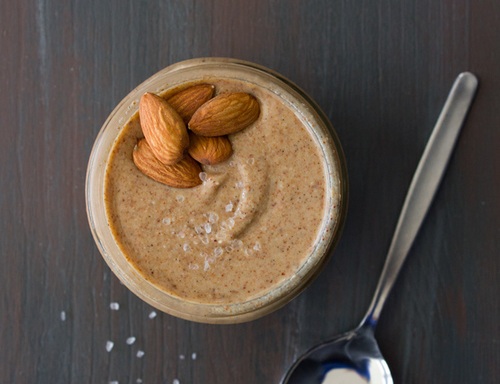 One of my favorite things about the Blendtec Twister jar is its amazing ability to take raw nuts and seeds and turn them into this decadent, drippy butter in just seconds.
Most food processors require at least 10 minutes or so to give you a really nice, creamy consistency, and other blenders that can process nuts and seeds can overheat the nuts so much that they're not truly raw anymore. Or, some might require you to roast the nuts or seeds to bring out the natural oils. The Blendtec Twister jar is so powerful, it doesn't require you to heat the nuts or seeds at all if you don't wish to.
In my opinion, raw nut butters taste the freshest, and the best, so immediately upon receiving the Blendtec Twister jar, I knew almond butter was the first thing I wanted to create.
The special feature about the Twister jar is that all you need to do is turn the lid that it comes with, which contains special handles that do all the work for you in just seconds.
Deciding what to make in this incredible jar was the hardest part of the whole process. Since I had raw almonds, raw cashews and my favorite, raw coconut shreds, in storage, I knew something was in the works for a magical combination.
In just a couple of minutes, from start to finish, this beautiful nut butter was born. It's my new favorite spread for everything—oatmeal, yogurt, and even dolloped on top of cold, creamy smoothies, made in my Blendtec blender of course.
I used 100% raw organic almonds I purchased online through Sunfood. Most raw almonds you buy at the store have been pasteurized with high heat and aren't truly raw, including nut butters made from almonds that claim to be raw. I used the least processed version possible to retain all the nutrients in almonds,  and the flavor was remarkably nutty and sweet. I also used organic raw cashews and raw coconut for this recipe that I bought online, or you can purchase them at any health food store.
I would advise using raw nuts for this recipe to get a lighter taste. If you prefer a more robust flavor, roast your almonds and cashews until lightly toasted in your oven on 300°F.
For all of you raw foodies out there like myself, enjoy the recipe below. It's full of nourishing vitamins, minerals, protein and has just a touch of cinnamon, raw vanilla bean, and a slight dash of Pink Himalayan raw sea salt for added minerals. Feel free to leave any of the flavors out if you wish.
Raw Cinnamon Almond Butter
Makes: 1 cup
Ingredients

⅓ cup raw, organic almonds
⅓ cup raw organic cashews
⅓ cup raw organic shredded coconut (unsweetened)
¼ tsp cinnamon
¼ inch of a raw vanilla bean, scraped (or you can use extract)
⅛ tsp raw Himalayan sea salt (optional)
Directions
Insert all the ingredients into the Blendtec Twister jar. Soaking is not required or recommended.
Place the lid on the Twister jar, and secure firmly.
Next, place the jar onto the Blendtec base, and turn on the power button.
Secure your right hand on top of the

Twister jar

, and select speed of 7 to start out.
As the Twister jar processes the nuts, begin immediately turning the Twister jar lid counterclockwise to assist the processing of the nuts until you see a nut butter start to develop. Mine took exactly 30 seconds.
Stop the machine, take off the lid, and check your results. You should have a creamy nut butter at this point.
If not, return back to the machine and repeat again for 15 or more seconds.
Scrape the contents out of the Twister jar with the special Blendtec Spectacula, which is designed to get all your precious nut butter all out of the jar through its curved design.
Scrape into a small glass jar for storage.
This makes one cup of nut butter, but feel free to make more. You may need additional processing time for a bigger recipe.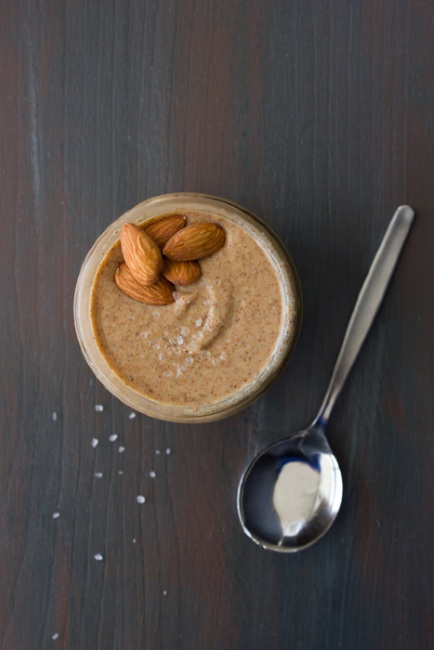 This smells amazing right out of the jar and will keep for two weeks tightly sealed in a cool, dry place. If you want to keep it longer, I suggest storing in the fridge since the raw nuts contain precious oils that might go rancid if left too long out in regular temperatures. If you do place it in the fridge, be aware it will firm up a bit, and you may need to gently warm it up before serving. I usually consume it within two weeks, but if I have it out of the fridge, it's creamy enough for me to use without heating.
Enjoy!