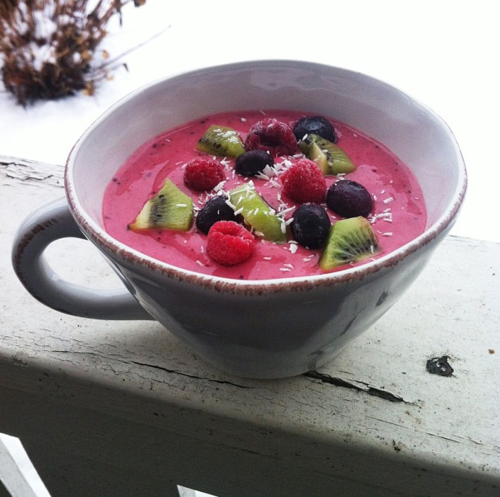 Raw Beautifying Superfood Smoothie Bowl
By Heather McClees of Soulful Spoon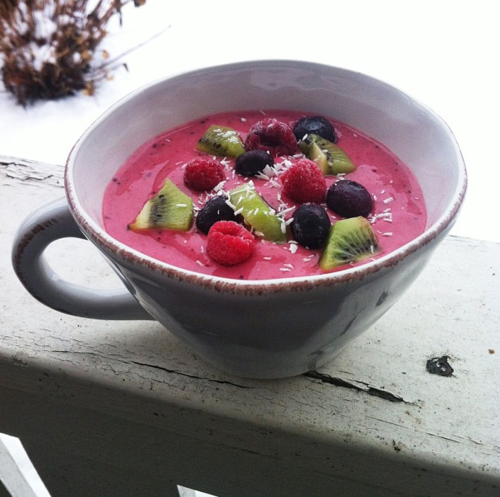 One of my favorite things to make for breakfast is a smoothie bowl. I love the fresh, cooling, and energizing taste of a superfood smoothie early in the day, but I like to eat my smoothies out of a bowl to feel more like a meal than a drink. I also like to make them extra thick for this reason, too. There's nothing like eating something healthy that really tastes like ice cream, either—what a treat to start the day!
I find breakfast to be one of the most nourishing meals of the day, and it's my favorite to get creative with. I also try to make breakfast beneficial both nutritionally and physically. The beauty of plant foods is that they allow us to create amazing, delicious dishes that are fantastic for our body, mind, and our beauty routine!
This smoothie bowl is one of my latest beautifying creations to do just that.  Not only do I know I'm giving my body raw, living nutrients to provide me with plenty of energy for the day, but also plenty of unprocessed vitamins, minerals, healthy fats and protein to keep my metabolism running high and my skin looking great.
Plus, it would be hard to eat something this gorgeous and not feel happy, right? This beautifying smoothie bowl is just sweet enough, incredibly filling, and also simple to digest.
It takes just seconds to make in the Blendtec blender. I like to use the ice cream setting to  make this extra thick and simply use less liquid. Doing so will give you a thicker, creamier consistency that's nothing short of amazing.
Frosty, thick, and so delicious, it makes for a perfect pairing with a hot cup of tea, or coffee, if you prefer.
I've used some of my favorite berries to bring color to the recipe, a healthy source of plant-based fats, and also a few healthy sources of fiber to thicken up the recipe. Lastly, I added in one of my favorite superfoods, acai powder.
Acai powder is rich in beautifying omega 3 fats, fiber, and is the highest antioxidant fruit source in the world, second only to maqui berries. Acai is also healing to the gastrointestinal tract, prevents and treats depression, and has even been linked to higher metabolism function. You can buy acai in powder or frozen puree form. I'll be using a raw powder in this recipe for ease of use.
My favorite part about this smoothie bowl is it is 100% natural and completely delicious. It's perfect for a busy morning or a leisurely weekend.
Raw Superfood Smoothie Bowl
Serves: 1
Ingredients:
1 cup unsweetened vanilla almond milk (you can make your own to make this truly raw if you wish)
1 cup organic frozen raspberries
1 tsp Navitas Naturals raw acai powder
1 full drop of NuNaturals alcohol-free liquid stevia
1 tbsp raw chia seeds
¼ cup raw organic cashews, soaked overnight the night before
1 tbsp Artisana raw coconut butter
1 tsp raw cacao nibs
Garnishes:
fresh fruit of your choice (I like kiwi and berries for the lowest sugar option)
1 tsp unsweetened shredded coconut
Directions:
Insert all the ingredients (except the garnishes)  in the order listed into the Blendtec Wildside+ Jar.
Secure the lid and press the "Ice Cream" button, I prefer to stop the cycle with around 20 seconds left, while it's still really thick and creamy. You could also add in a little more regular ice, or could make almond milk ice cubes ahead of time, and add here as well. These options would give you an even thicker blend, but I don't find them necessary.
Stop the blender when it has reached the desired texture.
Scrape the contents into a bowl, or large mug.
Top with the garnishes and enjoy.
*Notes*
You can also place this in the freezer before garnishing for about an hour and return to eat it later for a true ice cream like treat.
Enjoy!