By Trisha Lyn Fawver of FoodAskew.net
When people ask if I'm a good cook, I joke that I'm lucky to not get anyone in my house sick!  That's why I lean on high-tech gadgets like the Blendtec Designer Series to get me through the rigors of cooking!
My Super Simple Peach Slushy Recipe is fool-proof and the perfect cold quencher for a scorching summer day, plus it's peach season, so what a better way to enjoy all those delicious peaches!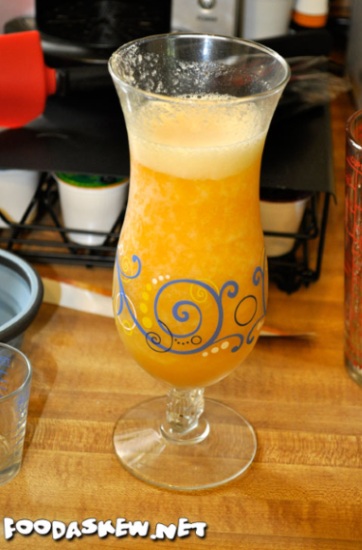 Super Simple Peach Slushy
Ingredients
2 cups apple juice
2 cups frozen peach slices
1.5 oz Bacardi Peach Red Rum (optional)
Directions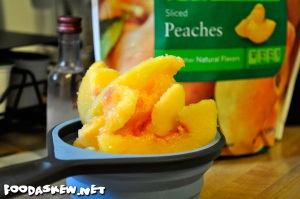 Pour the apple juice into the Blendtec WildSide+ jar.  Add the frozen peach slices carefully to limit splashing. Add Bacardi Peach Red Rum, if desired.  Blend on the "Smoothie" cycle for approximately 30 seconds (you won't need the entire 40 second pre-set cycle).
The slushy will be best kept in the freezer for up to a day, but you're probably going to want to drink it all if the weather is hot enough.  This amount makes about 2 servings, depending on the glass you use (we used one fancy hurricane glass and a standard pint glass and had about half a cup left over for later).  There's plenty of room left in in WildSide+ jar, so you could easily double the recipe for more guests!
About Trisha
Trisha was raised by wolves (not really) so she's on a mission to learn how to sustain herself and get pretty all on her own.  She cultivates a collection of user-submitted recipes and reviews at FoodAskew.net and blogs about her manicures, beauty trials, photography, crafts, and career at TrishaLyn.com