National Healthy Kids Day
It's National Healthy Kids Day! What a great holiday. It's important to teach our kids about healthy living—something kids should learn about all year long—and this day reminds us to keep up the education. This day is also a reminder about why healthy living is so important for our children—as well as ourselves.
So, with the temperature finally warming up (at least here in Utah), it's time to head outdoors and get active again, as well as help kids make healthy and delicious recipes. Here are some suggestions to get started.
Hiking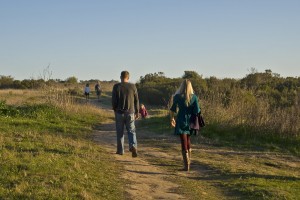 My husband and I love to be outdoors in the summer. We especially love hiking, and the hiking trails in Utah are endless. We don't have kids yet, but when we do, I know we'll introduce them to the delights of hiking.
You don't have to pick a hard hike; you can choose a simple trail and then make the hike fun and educational. For example, bring a football or Frisbee to throw around with the kids if there's an open grassy area nearby. You can also teach your kids about the plants and animals you see on the trail.
Family-Friendly Competitions
Another great activity is to play sports with your kids. You may also want to invite neighbors and other friends to participate. Let the kids pick what sports to play. The possibilities are almost endless—baseball, football, soccer, horseshoes, and the list goes on. For team-oriented games, play against your kids or divide by gender. Rather than concentrating on winning, focus on having fun and enjoying the time together.
Cooking with Kids
Teach your kids about nutrition, and then help them make healthy, tasty recipes. For a great experience, find some tips about cooking with children and how to make the process fun, educational, and beneficial for everyone. Here are some great recipes that are nutritious, delicious, and easy to make in your Blendtec blender:
These wholesome pancakes, also known as pioneer pancakes, are perfectly paired with peach butter and Blendtec's Raspberry-Maple Syrup. If you don't like raspberry, you can try one of our other great-tasting syrups.
Hummus is an inexpensive, high-fiber, and protein-packed food.
Only frozen bananas are needed to create this faux ice cream, which is creamy, soft, and so delicious. The add-ins and toppings for this nutritious dessert are unlimited. You can even substitute the bananas with strawberries, mango, or pineapple. Yum!
For a healthy juice that also tastes great, try this recipe packed full of fruit.
What are some ways you teach your kids about healthy living?