It's National Dairy Month!
June is National Dairy Month—a great time to learn more about the benefits of dairy and how much you and your family should be consuming.
Why is dairy important to include in my diet? Most people think of calcium when they consider dairy. "Dairy foods, particularly fluid milk, yogurt, and cheese are the principal sources of calcium in the diets of the industrialized nations, and without a high dairy diet, it is difficult to come close to the recommended calcium intakes."1 But why is calcium so important? Calcium is well-known for its role in bone and dental health, and it's also a vital nutrient needed for cellular activities.
In addition to calcium, dairy products also contain high-quality proteins. Milk contains both casein and whey, which are rich sources of peptides that can aid in lowering blood pressure in people with hypertension (high blood pressure). Protein also helps you feel satisfied for longer periods and contributes to healthy body weight.2
Dairy products contain additional nutrients, such as potassium, riboflavin, vitamins A and D (when fortified), and phosphorus, making dairy products a delicious and healthy food group.
Do I consume enough dairy? This is a good question to ask yourself when considering how much milk, cheese, and yogurt to include in your diet. Often, preschool-age children consume more servings of dairy than needed, while adolescents and adults have a hard time meeting the recommendations.1 How much dairy is recommended daily? For adults, the Dietary Guidelines for Americans recommend 3 servings per day.3
How much is one serving? The National Dairy Council indicates one serving of dairy is "1 cup (8 oz) of low-fat or fat-free milk, 1 cup (8 oz) low-fat or fat-free milk yogurt, 1.5 ounces of reduced-fat natural cheese (e.g., cheddar), 2 ounces reduced-fat processed cheese (e.g., American), 1/3 cup reduced-fat shredded cheese."4
Below are a few recipes you can make in your Blendtec blender that will help you increase the amount of dairy in your diet. Try these recipes this month—you'll love the taste and feel great about getting more dairy in your diet.
Chilled Cucumber and Yogurt Soup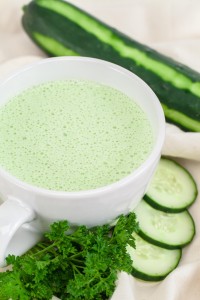 Try this light, refreshing soup made with fresh cucumbers—it's sure to satisfy your hunger on a warm summer day.
2 c plain, nonfat yogurt
½ clove garlic
½ tsp kosher or sea salt
¼ tsp black pepper
¼ bunch parsley, stems trimmed (approximately 1/3 cup)
2 green onions, trimmed and halved
1 tbsp fresh lemon juice
2 large cucumbers, peeled and quartered
Add ingredients to WildSide+ Jar in order listed and secure lid.  Select "Soup" setting. Chill for 2 hours prior to serving. Serve this soup with your favorite whole grain crackers.
Servings 4
Size 9 fl oz
Calories 83
Fat 0 g
Saturated Fat 0 g
Cholesterol 3 mg
Sodium 388 mg
Carbohydrates 13 g
Fiber 1 g
Sugar 8 g
Protein 7 g
Appetizer Cheese Ball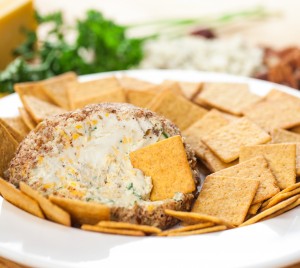 This unique cheese ball will be the highlight of any party. Accompany this spread with your favorite crackers or pita bread, or with sliced fruit, such as apples and pears.
⅓ c pecans
8 oz Neufchâtel cheese
2 oz blue cheese, crumbled
3 oz cheddar cheese, shredded
1 tsp Dijon mustard
1 tsp Worcestershire sauce
⅛ tsp garlic powder
⅛ tsp kosher or sea salt
¼ cup fresh parsley
Add pecans to WildSide+ jar and secure lid. Press "Pulse" 3–5 times or until finely chopped. Pour onto flat surface. Add all other ingredients to WildSide+ jar and secure lid. Select Speed 1, and run for 10–15 seconds or until ingredients are incorporated. Remove mixture from jar and form a ball. Roll ball in pecans. Cover with plastic, and refrigerate for at least 1 hour. Let stand at room temperature for at least 30 minutes before serving.
Servings 7
Serving Size ¼ c
Calories 197
Fat 17.5 g
Saturated Fat 8.5 g
Cholesterol 43 mg
Sodium 364 mg
Carbohydrates 2.5 g
Fiber 0.5 g
Sugar 1.5 g
Protein 8.5 g
Berry-Banana Blast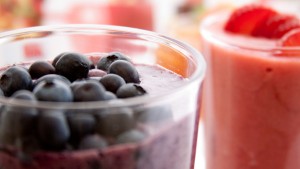 Blueberries are packed with powerful polyphenol compounds, which have a high oxygen radical absorbance capacity and act as antioxidants that neutralize free radicals. This brain berry has been shown to improve cognitive functioning.
½ c vanilla yogurt
¾ c apple juice
1 banana
¾ c frozen blueberries
1½ c frozen strawberries
Add ingredients to jar in order listed and secure lid. Select "Smoothie."
Servings 2
Serving Size 14 fl oz
Calories 220
Fat 1.5 g
Saturated Fat 0.5 g
Cholesterol 2 mg
Sodium 50 mg
Carbohydrates 50 g
Fiber 5 g
Sugar 36 g
Protein 4 g
References
Heaney, R. P. "Dairy Intake, Dietary Adequacy, and Lactose Intolerance." Advances in Nutrition, 2013, 4(2):151–156.
Giles-Smith, K. "Milk Proteins: Packing a Powerful Nutrition Punch." Today's Dietitian. 2013, 15(3): 26–30.
US Department of Agriculture. "Dietary Guidelines for Americans." Accessed June 1, 2013, http://www.cnpp.usda.gov/DGAs2010-PolicyDocument.htm.
National Dairy Council. "30 Days of Dairy." Accessed June 1, 2013, http://www.nationaldairycouncil.org/SiteCollectionDocuments/30-Days-of-Dairy.pdf.