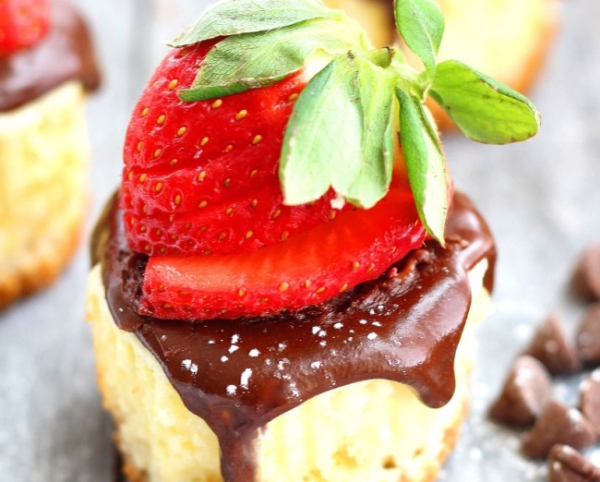 By Chelsea Lords of Chelsea's Messy Apron
With Valentine's Day coming up, these miniature cheesecakes are the perfect dessert to share with the ones you love. Using the Blendtec for this recipe makes the cheesecakes come together in a snap! The Blendtec takes care of the crust and filling in a matter of minutes. These cheesecakes are covered in a rich chocolate ganache and topped with berries of your choice. I chose strawberries to top these cheesecakes, but raspberries, blackberries, and blueberries would all be great alternatives. I hope you enjoy and have a very happy Valentine's Day!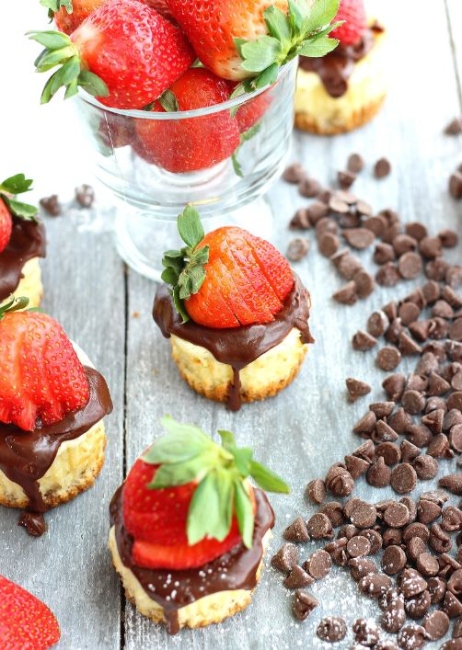 Mini Cheesecake Recipe
Crust:
3 sheets of graham crackers
1 tbsp white sugar
2 tbsp butter, melted
Cheesecake Filling:
1 package (8 oz) cream cheese, at room temperature
½ c white sugar
½ tsp vanilla extract
2 tsp flour
1 egg, at room temperature
1 tsp fresh lemon juice, optional
Topping:
¼ c semi-sweet chocolate chips
¼ c dark chocolate chips
3-4 tbsp heavy cream
½ tbsp powdered sugar
Fresh berries
Optional: powdered sugar
Crust:
Preheat the oven to 325 degrees F. Line a 6 cavity muffin tin with 6 liners. If you are using a larger muffin tin, fill the empty cavities halfway up with water. This ensures even baking.
In your Blendtec blender, pulse the graham crackers to crumbs. Stir in sugar and melted butter until completely mixed together. Press an even amount of graham cracker crust into the bottom of each muffin liner.
Press down the crust with a milk cap or the backside of a tablespoon measuring spoon and set aside.
Cheesecake Filling:
In your Blendtec jar, combine the softened cream cheese and white sugar. Pulse until smooth and creamy. Add vanilla extract, flour, and optional lemon juice if desired. Pulse until combined. Add the egg, and pulse once more until just combined.
Spoon the cheesecake filling evenly between the 6 cups and bake for 20-22 minutes. The centers will still jiggle a little bit, but the edges should be a very light brown.
Remove from the oven and let cool at room temperature on a wire cooling rack for 1 hour. Then transfer to the fridge and let cool for at least 2 hours.
The cheesecakes may have risen in the oven and will deflate quite a bit while cooling. Once completely cooled, remove muffin liners and discard.
Topping:
Once the cheesecakes have been cooled for 2 hours in the fridge, combine semi-sweet chocolate chips, dark chocolate chip, heavy cream, and powdered sugar in a microwave safe bowl.
Microwave for 30 seconds, stir, and return to the microwave for another 20-25 seconds. Stir until completely melted and if needed add in more heavy cream to get a syrup-like consistency.
Spoon the ganache evenly among the six cheesecakes.
Place fresh berries on the cheesecakes and sprinkle on powdered sugar if desired.