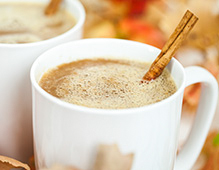 Holiday Treats [Tasty Links]
The holidays are upon us, filled with gift giving, parties and food. It's easy to become stressed with all the details of the season, especially making food. Put the focus back on enjoying time with family and friends by trying out the following quick-to-make holiday recipes. They're all easy to prepare in your Blendtec blender.
White Chocolate and Pecan Spread (from Blendtec): This spread is a great treat for parties—or a delicious snack for your family. Spread it on graham crackers, use it as a dip for apple slices or pretzels, stir it into your morning oatmeal, or spread it on bananas and freeze to make banana pops.
Creamy Pumpkin Smoothie (from Cathy Pollak): Share this yummy smoothie with family and friends for a festive refresher.
Speedy Wassail (from Blendtec): This hot, spicy, nonalcoholic drink hits the spot whenever it's chilly outside.
Pink Lady Poppy Seed Dressing  (from Robin Sue Joss): Try this creamy dressing on a salad at your next holiday gathering.
What are your favorite holiday recipes?