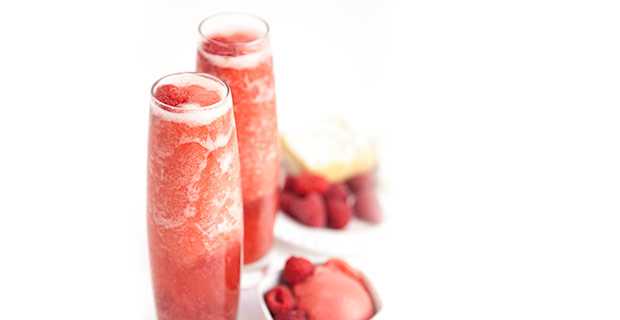 Frozen Raspberry Mimosa [Recipe Video]
Frozen Raspberry Mimosa
Get the full recipe on the Blendtec Recipes page.
The mimosa is believed to have been invented by Frank Meier in 1925 at the Hôtel Ritz in Paris. However, four years earlier, a similar cocktail was created in London, England by Pat McGarry, a bartender at Buck's Club. This drink, which was invented as an excuse to start drinking earlier in the day, is known as the Buck's Fizz. The difference between the two cocktails? A Buck's Fizz is two parts orange juice to one part champagne while the mimosa is equal parts. The mimosa is often associated with brunch – especially on Mother's Day. However, these are not the only occasions to enjoy a mimosa; it can be enjoyed at a party, a barbecue, a bridal shower or any special event. This alternative to the classic mimosa is a refreshing frozen treat that you can have any time of the day – occasion or not!
For a non-alcoholic version, use a lemon-lime soda (like Sprite or 7-Up) or ginger ale & grenadine instead of champagne.
Ingredients
2 c champagne, brut, extra dry, or prosecco
1 c raspberry sorbet
1 c ice cubes
fresh raspberries or mint, for garnish
Directions
Add champagne, sorbet, and ice cubes to WildSide+ jar in order listed. Secure lid and allow champagne bubbles to settle. Select "Ice Crush." Pour into chilled champagne flutes, and garnish with fresh raspberries or mint.