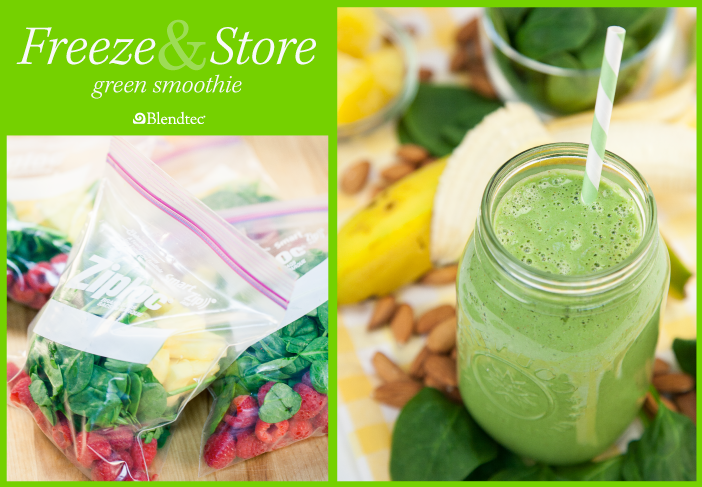 Freeze-and-Store Green Smoothies
I'm not gonna lie. As easy as it is to make a green smoothie in my Blendtec blender, sometimes when I'm rushed in the mornings, it still just sounds like too much work! Of course, my blender will turn anything I want into a nice, smooth consistency in seconds. The hard part is digging through my fridge or freezer for stuff to put in the blender—and we've all ended up with a few hastily concocted, not-so-tasty combinations from time to time.
So, here's my lazy man's Just-Rolled-out-of-Bed, Don't-Wanna-Dig-through-My-Fridge-for-Stuff-to-Put-in-My-Smoothie Smoothie, also known as Freeze-and-Store Green Smoothie.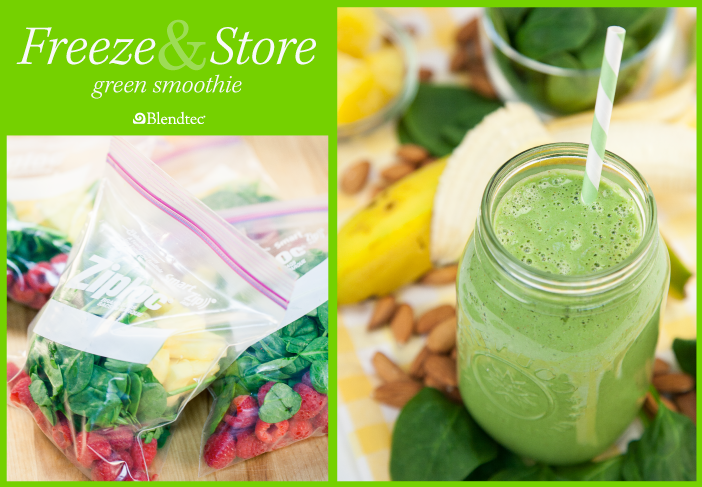 1.       Find a Blender recipe: You're going to make a bunch of it at once, so you might as well make sure it's a combination you like. (Check out the Basic Green Smoothie, Cantaloupe Veggie Smoothie, and Jolly Green Smoothie for ideas.) I like to mix about equal amounts of fruits and greens, something like a banana, 1 cup of sliced mango or pineapple, a handful of raspberries, and 2 cups of spinach.
2.       Round up the ingredients: You'll want enough to make 5 or more servings of your selected recipe, so make sure you get enough of each ingredient.
3.       Set up: Get out 5 or more freezer-style plastic bags. I like quart-size Ziploc freezer bags because they hold up well in the freezer and will help keep your products fresh and free of freezer burn for as long as possible.
4.       Bag it: Divide each ingredient evenly among the freezer bags. Put the fruit at the bottom, and top with leafy greens. You can even add your favorite sweetener to the mix, though if you're using agave nectar or honey it's probably easier to add them to the jar right before blending.
5.       Squeeze: Mash the ingredients as flat as you can, and then remove as much air from the bags as you can. The bags will store in your freezer better and will take up less room. (Be sure you rinse and dry all the fruits and greens before freezing).
6.       Throw 'em in: Place the bags in the freezer, and BAM! Green smoothies any time in seconds. All you have to do is pull a bag out of the freezer; pour about 2 cups of water, juice, or milk into your WildSide+ jar; dump in the contents of your frozen smoothie package; and add a squeeze of agave nectar. You've got a green smoothie to go!
Try it. You'll thank me later! 😉
Note: Sometimes filling your blender with a lot of frozen ingredients can cause cavitation (where things stick to the walls and above the blade and won't blend). If that happens, try adding a fresh piece of fruit to the blend rather than freezing the piece of fruit in your freeze-and-store package. Or, try adding extra liquid or using the Twister jar.
Have you tried freezing your green smoothies? Do you have any suggestions? Please leave us a note in the comments below!