Feeding Passions: Designing the Blendtec Experience
Our Passion
At Blendtec we are passionate about creating world-class kitchen electronics for people with all kinds of interests and lifestyles, including those who are ready to make health transformations, busy moms who want more time at the dinner table and less time in the kitchen, and people who just want to make some delicious drinks for their friends.
Design is so much more than simply the way something looks—design is the whole experience, the way it all comes together. We know the decisions we make on a sketch pad will affect the experience you have the next time you're in your kitchen deciding what to blend. So we focus intently on creating more functionality while also finding ways to simplify our products. Simplifying is more than just the absence of clutter; it's making the complex understandable. One small but valuable example of this approach is the combination of preprogrammed blend cycles and the speed slider on the Designer Series.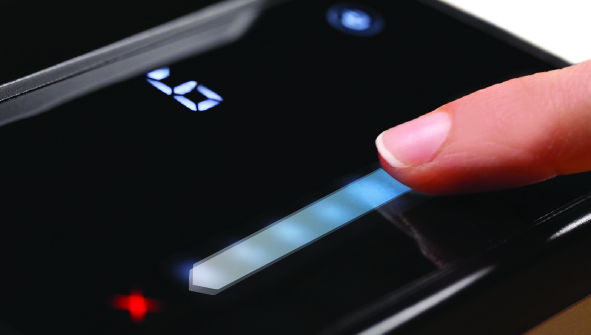 Total Control
We know from long experience that you love preprogrammed blend cycles. Being able to simply press a button and walk away is one of our favorite innovations. Yet at the same time, we understand that total control of your blender allows you to make blends exactly how you like them.
With the Designer Series, we introduced a total-speed-control slider located right below the preprogrammed cycles. It's a 10-speed, illuminated, manual control bar; just touch or glide your finger anywhere on the bar to speed up or slow down the blender motor. No switches, no guesswork—the speed slider is the ultimate in simplicity. Though the slider is simple to use, it's based on a complex system that's smart enough to distinguish between your finger and a spilled drop of water.
The total control slider is just one outcome of our pursuit of simplicity—making complex yet extremely beneficial features simple to understand and use.
Our passion for intuitive design drives every decision we make throughout the design process, which allows us to make the Blendtec experience more meaningful for you. That means you can focus on what really matters: your own passions.