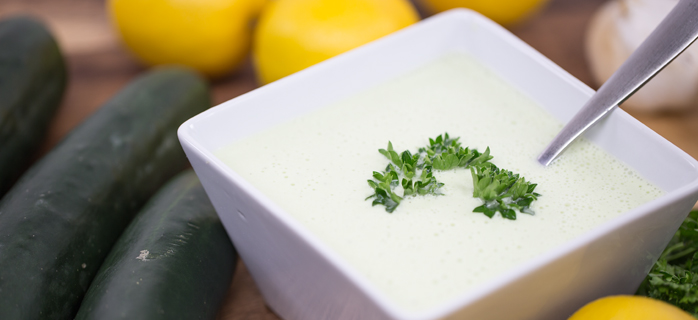 Chilled Cucumber & Yogurt Soup [Recipe Video]
Chilled Cucumber and Yogurt Soup
Get the full recipe on the Blendtec Recipes page.
Grab some cucumbers from your garden or at the farmer's market and try this especially refreshing dish! This light, chilled soup is the perfect summer snack, appetizer or meal and offers a different taste than the majority of chilled soups. Instead of being sweet, the yogurt gives it a tart taste and the salt, pepper, garlic, parsley, and green onions give it a nice, savory flavor. It's a great way to get some needed nutrition as well – the yogurt provides some protein and the cucumbers satisfy part of your daily recommended serving of veggies. Give this cucumber yogurt soup a try and let us know what you think in the comments below.
Ingredients
2 cups plain nonfat yogurt
½ clove garlic
½ tsp kosher or sea salt
¼ tsp black pepper
¼ bunch parsley, stems trimmed (approximately ⅓ cup)
2 green onions, trimmed and halved
1 tbsp fresh lemon juice
2 large cucumbers, peeled and quartered
Directions
Add ingredients to WildSide+ jar (or FourSide jar) in order listed and secure lid. Select "Soup" setting. Chill for two hours prior to serving. Serve this soup with your favorite whole grain cracker or biscuits.