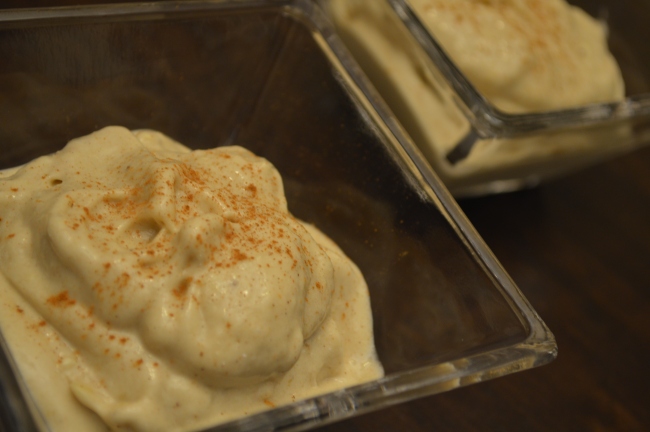 By Jolynn Toma of Lift. Pray. Love.
Making homemade froyo is the up and coming trend these days. It's very easy and has way more nutritional value than buying it at a store or restaurant. So why not join the fun?
I've made a banana nut bread froyo in the past that will knock your socks off, but I always love making new flavor combinations, which happens to be another benefit from making it at home—you know exactly what ingredients are in what you're eating.
Let's break this recipe down and talk about the benefits of its ingredients.
BANANAS – Many people eat bananas because they're known to have high levels of potassium, but they also rank high in vitamin B6, manganese, vitamin C, and fiber. Studies have shown eating bananas may help to prevent high blood pressure, protect against stomach ulcers, and build better bones by helping your body to absorb higher levels of calcium. Fun fact: to get the most antioxidants from your banana, wait until it is fully ripened.[1]
CINNAMON – No one thinks an ingredient so small can be so helpful, but research suggests cinnamon helps prevent and treat muscle spasms, the common cold, infections and loss of appetite. Still unconvinced? In medieval times, doctors used cinnamon to cure arthritis, coughing and sore throats. [2]
RAW CASHEWS – Cashews contain high levels of copper, phosphorus, manganese, magnesium, and zinc—with the star player being copper. It plays a role in a range of physiological processes including iron utilization, development of bone and connective tissue, and the production of the skin and hair pigment called melanin. An inadequate amount of copper intake can lead to an iron deficiency, ruptured blood vessels, osteoporosis and more. Tip: Enjoy a handful of these nuts at least four days a week to increase your copper intake and decrease your risk of heart disease. [3]
COCONUT OIL – Do you want a product that's been getting rave reviews within the last year? This is it. Previously shunned by health fanatics because of its high amount of saturated fat, coconut oil is now used on skin, in hair as a leave-in conditioner, and eaten in several different ways. Aside from saturated fats, virgin coconut oil is composed of medium chain triglycerides, which research suggests help boost the body's metabolism. Tip: When buying coconut oil, be sure to choose extra virgin and organic, if possible. The organic version will verify its 100 percent non-GMO. [4]
VANILLA EXTRACT – This flavor booster doesn't necessarily rank high in any nutritional aspect, but it still has its benefits. It became popular in the 17th century Europe for its sedation properties. According to HolisiticOnline.com, Memorial Sloan-Kettering Hospital in New York reported that some patients who suffer from claustrophobia were able to alleviate their symptoms when they were exposed to vanilla aromatherapy. Vanilla extract also contains high levels of antioxidants which help reduce free radicals in your body. [5]
ALMOND MILK – Almond milk has a very high nutritional value and is safe for those who are lactose intolerant or have gluten and casein allergies. It's high in a number of vitamins and minerals, including vitamin E, manganese, magnesium, and many more. It has recently grown in popularity over the last year or two due to the fact it's a great low-calorie and low-fat option. It's best if you make your own (post to come), but when you're in a hurry, opt for the unsweetened variety. [6]
Now, break out that blender and whip up a serving of coconut cashew froyo with tons of vitamins, minerals, and antioxidants to ensure you live a healthy, balanced life!
Coconut Cashew Froyo
1-2 servings
Ingredients:
2 frozen bananas (quartered and frozen)
1/4 tsp cinnamon
1/8 cup raw, unsalted cashews
1/2 tbsp coconut oil
1/2 tsp vanilla extract
1/8 cup unsweetened vanilla almond milk
Directions:
Throw everything in your Twister jar and mix until smooth. Turn Twister lid counter-clockwise during blending. Serve immediately.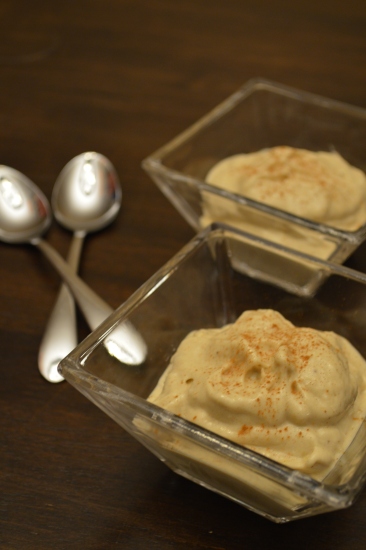 References:
[1] http://www.whfoods.com/genpage.php?tname=foodspice&dbid=7
[2] http://www.medicalnewstoday.com/articles/266069.php
[3] http://www.whfoods.com/genpage.php?tname=foodspice&dbid=98
[4] http://health.usnews.com/health-news/blogs/eat-run/2013/11/21/5-superfoods-you-need-to-eat
[5] http://www.livestrong.com/article/298410-what-are-the-health-benefits-of-vanilla-extract/
[6] http://www.fitday.com/fitness-articles/nutrition/healthy-eating/the-healthier-choice-almond-milk-vs-milk.html