Category Archives:
Commercial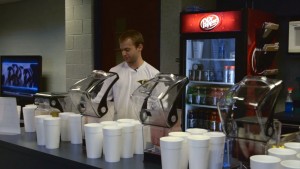 More and more professional organizations are aligning themselves with the Blendtec brand. The latest converts are the St. Louis Rams. Or, specifically, the team's dietitian and chef, Shawn Zell. Blendtec provided six Stealth blenders to the Rams. The sports industry is a natural fit for Blendtec's high-performance blenders and this organization is another on a growing list of sports and fitness groups enjoying the benefits of Blendtec's professional blending equipment. See the Stealth in action in the St. Louis Rams kitchen.
Blendtec beats out other leading consumer houseware brands and is awarded with the Housewares Executive Gold Innovation Award for the Signature Series and Stealth lines of blenders. The Signature Series and Stealth are only the latest of Blendtec's award-winning products available to professionals and retail consumers alike. These products are a testament of Blendtec's culture of innovation and ongoing improvement.
At Blendtec, our first big splash was in the commercial blending industry. We're a leading supplier of blending equipment for thousands of smoothie shops, coffee houses, eateries, and restaurants around the world and have been for the past two decades. Are you interested in purchasing a commercial product? Here's how.