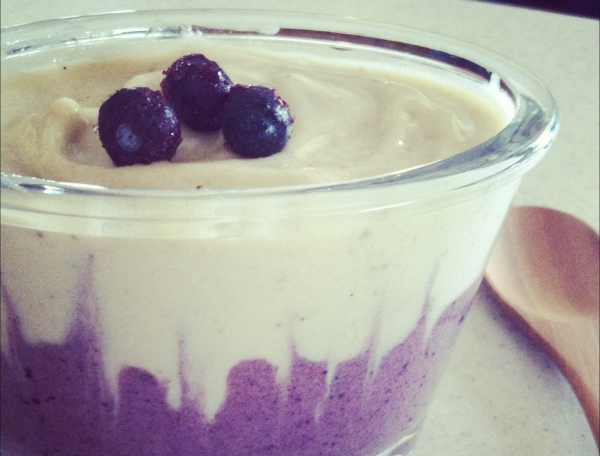 Blueberry Banana Ice Cream
By Kristen Martinek of Enjoy This Organic Life
I have always been a big fan of bananas. I love them raw, dehydrated, or as the base of all my smoothies. But my all-time love is banana ice cream! Once upon a time, I was a die-hard fan of vanilla frozen yogurt. Even knowing it was full of junk, I could still easily eat an entire large serving in one sitting! It was quite a guilty pleasure. As I got older and wiser, I knew that stuff needed to be kicked to the curb, but I really missed it. Thankfully, I discovered frozen bananas and the power of a high-speed blender. I have been obsessed ever since. It is the perfect guilt-free treat to enjoy any time of day and my, oh my, is it sinfully sweet and rich!
Over the years, I have used many different machines to try and achieve the right soft-serve consistency, but none have compared to the Blendtec. Wow! Just wow. In less than one minute, I have a perfectly smooth soft-serve banana ice cream. My appreciation and love for the Blendtec has been taken to a whole new level!
This recipe will satisfy everyone's ice cream desires, whether you are be a die-hard vegan or someone who lives and breathes for all things dairy.
Layered Blueberry Banana Ice Cream
Ingredients:
4 frozen bananas, peeled and cut into small/medium sized pieces (split into two equal parts)
¼ cup frozen blueberries
Directions:
Part 1: Add half the bananas and ¼ cup berries to Blendtec Twister jar, covering with Twister lid.
Select the "Ice Cream" setting. As the bananas blend, turn the lid counter-clockwise.
Once the bananas and berries have blended into a smooth consistency (between 30-45 seconds), spoon into bowl or wide mouth mug/glass. Set in freezer.
Part 2:
Rinse out blender. Add remaining bananas and replace Twister lid. Blend on "Ice cream" setting.
Once bananas have blended into a smooth consistency (between 30-45 seconds), spoon on top of berry layer. Top with sliced fresh banana and/or berries and enjoy!
• To achieve the effect created below, press a skewer or chopstick alongside the edge of glass and bring straight up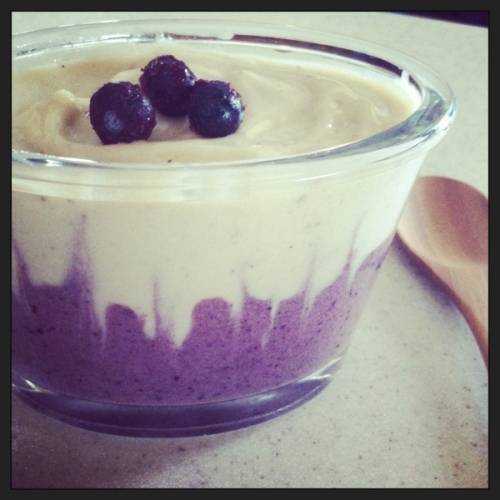 What I love most about this delectable treat is how healthy it is for you. It has no added sweeteners, unidentifiable ingredients, or cholesterol and saturated fats. Could a dessert be any more amazing? And guess what? Like I mentioned above, you can eat it at any time of day. I am guilty (proudly) of eating this for breakfast and as a late-night treat.
The flavor combination I provided here is just the beginning. Consider using other frozen fruit combinations, adding chopped dates or other dried fruits on top, sprinkling chopped nuts, or blending in a touch of fresh mint. The sky is truly the limit on this one!