Blendtec Blenders Named Best-in-Class by Leading Foodservice Magazine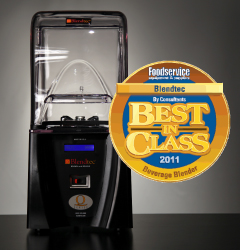 Award by industry consultants adds to company's accolades.
OREM, UTAH, USA – January 16, 2012. Blendtec® has earned the prestigious 2011 Best-in-Class Award for beverage blenders, as voted by respondents to Foodservice Equipment & Supplies (FE&S) magazine's consultants survey.
The October 2011 issue of FE&S listed the year's top foodservice brands, as determined by foodservice operators, dealers and consultants. FE&S partnered with an international research firm to enlist the opinions of veteran industry professionals in a variety of categories.
Foodservice consultants named Blendtec the top brand in the beverage blender category, giving high marks in the areas of quality, value, design and aesthetics; service and support; sales representation; inventory and availability; and information availability.
"We're always pleased to receive industry honors from a trusted source," says Tom Dickson, Blendtec founder and CEO. "We hang our hat on producing the world's best blenders, and the foodservice industry is an especially discriminating audience. This award is another testament to our commitment to quality and innovation."