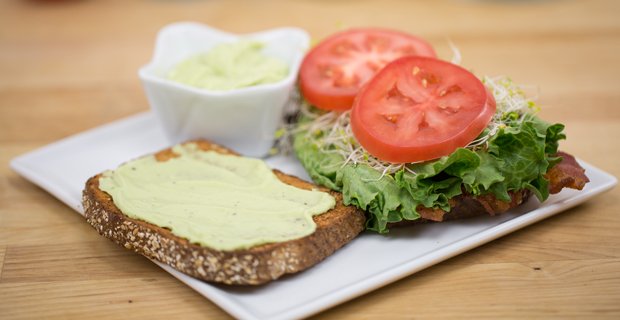 Avocado Aioli [Recipe Video]
Avocado Aioli
Get the full recipe on the Blendtec Recipes page.
This twist on classic aioli is full of many nutrients (thanks to the avocado!). Did you know that an avocado provides more potassium than a banana? This fruit also provides a lot of dietary fiber, vitamins K, B, C & E, protein and monounsaturated fat in the form of oleic acid. These monounsaturated fats help lower bad cholesterol in your blood and lowers your risk of heart disease or stroke. Avocados may have a lot of fat in them, but they are so good for you!
Try this avocado aioli as a spread on sandwiches, dip for veggies or with grilled chicken or salmon. What else can you do with this aioli? Share your ideas in the comments below.
Ingredients
½ cup Greek yogurt
1 large ripe avocado, peeled and pitted
1 tbsp fresh lime juice
1 clove garlic, quartered
¼ tsp kosher salt
⅛ tsp ground black pepper
Directions
Add ingredients to FourSide or WildSide+ jar in order listed and secure lid. Select "Sauces."
NOTE: If your blender does not have a "Sauces" cycle, blend on Medium Low (speed 3 or 4) for 30 seconds.
Variation
Avocado Wasabi Sauce:
For Avocado Wasabi Sauce, follow directions above and add ½ teaspoon wasabi powder to jar before blending.