5 Perfect Recipes for Summer
This week Blendtec has a special treat for you. Instead of just posting one recipe, we're giving you five delicious summer recipes! These are our newest recipes and are sure to be a hit at all your summer celebrations. The best part is that these impressive recipes are easy to make in your blender. Get ready to celebrate summer!
r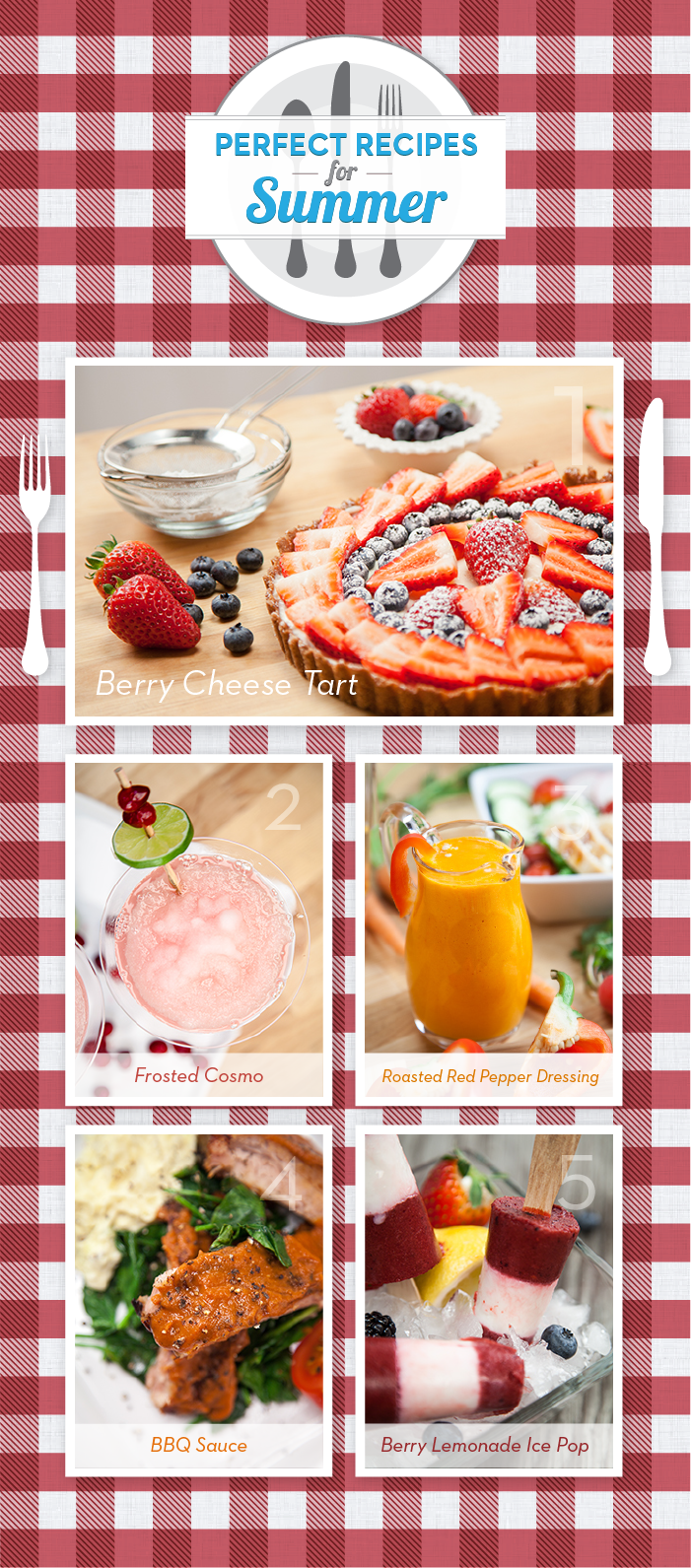 This not-too-sweet dessert is perfect for any cookout or party.
½ c toasted pecans
6 whole graham crackers, quartered
5 tbsp granulated sugar, divided 1 egg white 1½ tbsp coconut oil, melted
⅓ c 2% Greek yogurt
8 oz Neufchâtel cheese, at room temperature
2 c assorted fresh berries or fruit
Preheat oven to 350°F. Add toasted pecans, quartered graham crackers, and 2 tablespoons sugar to FourSide jar. Secure lid. and press "Pulse" 14–20 times. Stir contents of jar, and add egg white and melted coconut oil. Secure lid and press "Pulse" 4–6 times. Press crust into 9″ tart pan, and bake 8–10 minutes. Allow crust to cool.
Add Greek yogurt, remaining granulated sugar, and Neufchâtel cheese to clean FourSide jar; push Neufchâtel cheese down toward blade. Secure lid and press "Pulse" 8–12 times or until mixture is smooth. Pour mixture onto crust, and chill for at least 2 hours. Garnish with chilled berries before serving.
A tart and fresh beverage for a night with the ladies.
½ c cranberry juice
4 fl oz vodka 2 fl oz triple sec
¼ c agave nectar
2 tbsp fresh lime juice
2½ c ice cubes
Add ingredients to FourSide jar in order listed. Secure lid and select "Sauces."
This vinaigrette adds a spicy tang to a salad of mixed greens, grape tomatoes, red onion, cucumber, feta, and chickpeas.
⅓ c olive oil
¼ c water
3 tbsp white distilled vinegar
2 roasted red peppers*
1 clove garlic
½ tsp kosher salt
⅛ tsp smoked paprika
⅛ tsp cayenne pepper
Add ingredients to FourSide jar in order listed. Secure lid and select "Dressings."
*To roast red peppers, preheat oven to high broil. Place peppers on baking sheet, and broil for 4–6 minutes or until tops are blackened. Rotate peppers and broil again; continue rotating and broiling peppers until all sides are roasted. Remove peppers from oven and place in covered container for 15 minutes to allow steam to loosen skin. Gently peel peppers and discard skin. Core and seed peppers before use in recipe.
Slather ribs, chicken, pork, and even tofu with this versatile sauce—or use it as a dip for veggies and fries.
1 tbsp olive oil 2 cloves garlic
½ medium onion
1½ c crushed tomatoes
3 tbsp Worcestershire sauce
2 tbsp molasses
1 tsp liquid smoke
½ tsp ground mustard
1 tsp apple cider vinegar
¼ tsp kosher or sea salt
½ tsp ground cumin
½ tsp black pepper ground
1 pinch cayenne pepper
Heat oil in pan over medium heat; add garlic and onion, and sauté until onion is tender and translucent. Add remaining ingredients to pan, and stir well to incorporate. Simmer for 10 minutes. Cool and then add mixture to FourSide or WildSide+ jar. Secure lid and select "Sauces."
This sweet and tart recipe is the perfect treat for a hot summer afternoon. These ice pops are packed full of vitamins, but the great taste is what will bring people coming back for more.
Juice of 2 lemons
2 c strawberries
½ c blueberries
½ c raspberries
½ c blackberries
¼ c water
⅓ c sugar
½ c plain Greek yogurt
Add ingredients to FourSide or WildSide+ jar in order listed and secure lid. Select "Sauces" and freeze in ice pop molds until frozen. To achieve the layered look in the image: Add juice of one lemon, all berries, ¼ cup water, 3 tablespoons sugar, and 2 tablespoons yogurt to FourSide jar. Secure lid and select "Sauces." Pour mixture into ice pop molds, and freeze until solid. Meanwhile, add remaining lemon juice, water, sugar, and yogurt to FourSide jar. Secure lid, select Speed 1, and run cycle for 10 seconds. Store lemon mixture in covered container in refrigerator until berry mixture in molds is frozen. Pour lemon mixture over frozen berry mixture, insert sticks in ice pops, and freeze until lemon mixture is solid.